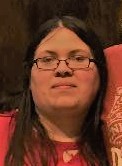 Juanita Brown, 26, of Laramie passed away on Monday, May 14, 2018 at Ivinson Memorial Hospital.
Juanita was born to Alejandro Flores and Keri Hogan on May 1, 1992 in Laramie, Wyoming.
She enjoyed art, animals, and especially loved her cat Dreamer. She was always happy and loved by everyone, and she was always willing to help and volunteer when she could.
She is preceded in death by her infant brother, Manuel Brown who passed in 1996.
Juanita is survived by her parents, Alejandro Flores Morales and Keri Hogan (Travis Louder); fiancé Glenn Edward Wallace; siblings Latisha Brown (Josh Vigil), Beatriz Flores, Maria Gomez, Bacilio Gomez, Alex Flores Jr., and Luis Flores; maternal grandparents Linda and David Brown; paternal grandmother Beatriz Morales Becerra; nieces, Navicia and Avalana Vigil; long-time friend Catie Kroger; and several aunts, uncles and cousins.
A visitation will be held at 12:00 p.m., Friday, May 18, 2018 at Montgomery-Stryker Funeral Home.
A funeral service will follow at 1:00 p.m., Friday, May 18, 2018, with the Reverend Rhett Ivey, officiating.
Burial will follow at Greenhill Cemetery.
Memorial contributions may be made to  Montgomery-Stryker Funeral Home.