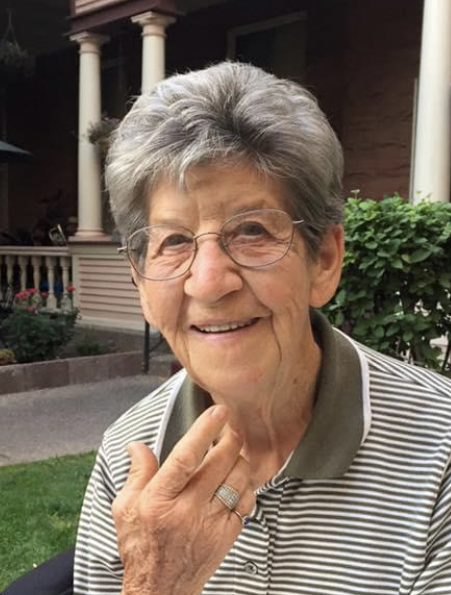 Joyce Johnson was born August 18, 1932 in Lethbridge Alberta Canada. She grew up on a farm with six brothers and sisters. After high school Joyce attended nursing school in Edmonton Alberta. Upon graduation she began her adventure in the United States which brought her to Jackson, Wyoming. While working as a nurse, she married briefly and had two daughters, Kathy and Karen. After Jackson she began working in the OB ward as a charge nurse at Ivinson Memorial Hospital in Laramie, Wyoming, where she touched the lives of many young mothers and their babies. She was loved by the fellow nurses and worked closely with Dr. Gean Coats, whom she developed a close friendship with for many years.
Joyce met and married the love of her life, Grover Johnson. They purchased The Albany Lodge and embarked on a journey to give it new life. She continued to work as a nurse for several years while commuting from Albany to Laramie and back. She retired from nursing to focus solely on The Albany Lodge. After 16 years she and Grover retired to their dream home on Fox Creek Rd with an amazing view of Sheep Mountain. For over 25 years they traveled the U.S. and Canada in their fifth wheel with their two cats and dog, Midnight ("Night"). They traveled the East coast from Maine to Texas and everywhere in between. Alaska and the United Kingdom had a special place in their hearts as well. Many friends and family were astonished that the cats never ran off. They had a loving relationship through all their many adventures. Grover passed away five years ago. 
Grover's passing was a huge loss for everyone. Joyce refused to leave behind their mountain dream home for several years. This past year she sold her home in the midst of the Mullen Fire and came to live with her daughter Karen and son-in-law Kevin Kaiser. Accompanying her was her beloved companion Shilo. 
 She lived happily with Karen and Kevin until her passing at Davis Hospice on May 2, 2021. She will be greatly missed by her daughters Karen (Kevin) Kaiser and Kathy (Mike) Feeney, along with brother-in-law Chuck (Kathy) Johnson. She will also be greatly missed by her grandchildren Chandale Pine, Bryson Johnson, Amanda Berger, and Codi Jacobs. As well as Great grandchildren Paul, Luke, Nicole, and Chloe. 
Her last writing was "I the river, see the distant ocean. It is blue and tranquil and inviting. I feel at peace, I feel welcome, I am happy."
A note from her daughter Karen… "I know you by heart Mommy"
Per Joyce's request, no services will be held. In lieu of flowers, memorials can be given to Davis Hospice Center, 6000 Sycamore Rd, Cheyenne, WY 82009.