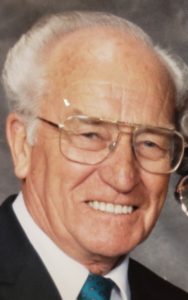 John Walter Kunkel, known to friends as "Walt," passed away on September 7, 2018, at the age of 96 years.
Born and raised in West Laramie the son of Roy Edward Kunkel and Lela Pearl (Crawford) Kunkel, he was a lifelong resident of Laramie.
Mr. Kunkel served in the United States Army, as a part of the 115th Mechanized Calvary during WWII. He was a part of the military campaigns in New Guinea, Sothern Philippines and Luzon.     
After serving in the military and being native of Laramie, Walt worked for 25 years as an auto parts salesman at Laramie Auto Parts. Later He worked 10 years at Wyoming Technical Institute as an Auto Parts Instructor.
One of his joy's in life was spending years building a beautiful "Swiss Chalet" cabin with his wife and children in the Fox Park Area and enjoyed many wonderful seasons there.
He is preceded in death by his wife of 65 years, Edna (Peterson), brothers Harold kunkel, Gerald Kunkel and sisters, Ethelene Peterson and Betty Albert.
He is survived by his children Gary Kunkel and Sylvia (Grossi) and 8 grandchildren, and 11 great-grandchildren.
Walt will forever be remembered as a loving and caring husband, father and grandfather.
Graveside service to be held Wednesday, September 12, 2018 at 1:00pm