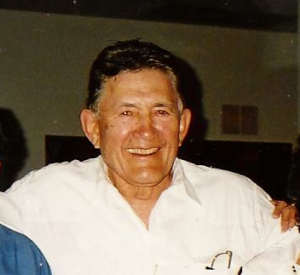 Joe Moreno, 84, passed away peacefully on April 17 at Laramie Care Center surrounded by family.  He was born May 13, 1931 in Raton, New Mexico to Jose and Louisa (nee. Gallegos) Moreno.
Joe married Benigna Diaz on October 6, 1955 in Fort Collins, Colorado. Last October the couple celebrated their 60th wedding anniversary.
He served in the Navy for four years during the Korean War and achieved the rank of Major in the Wyoming National Guard having served for 22 years. Being in the Guard allowed Joe and Benigna to travel all over the state.
Joe was an avid horse enthusiast and endurance rider. He was also dedicated to physical fitness and ran in the Boulder Boulder until the age of 73. Joe also enjoyed reading and dancing. He was a general contractor, specializing in residential and commercial construction.
He is preceded in death by his parents, daughter, Billie Jo King, sisters Geraldine Lopez and Connie Lauck, brothers, Albert Casados and Benny Sharrow.
Joe is survived by his wife, Benigna Moreno, children, Renita (John) Costin and Ed Moreno, all of Laramie. He is also survived by his brother Louis Moreno and grandchildren Rhyd Moreno, Sean Costin and Katie (Parker) Babbitt.