Joan N. Mile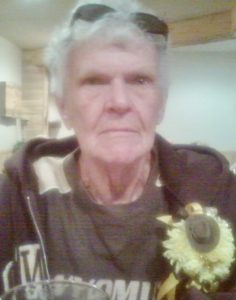 s,85, of Laramie passed away on Tuesday, August 7, 2018 at Hospice of Laramie. Joan was born March 3,1933 in Hayden, Colorado, to Robert and Evelyn Griswold.  Her father died when Joan was three years old. However, he had already made an indelible mark on her life because he changed her middle name to Nevada on the birth certificate, as he walked back down the hall to the nurse's station! Her mother had no idea until she received Joan's birth certificate!
After her father passed away, her mother Evelyn became a teacher in rural Wyoming schools, and taught her daughters and many others, until moving back to Laramie.  Joan began attending Stanton School in 5th grade and went on to graduate from Laramie High School in 1950, after skipping her junior year!  By a happy accident, Joan was sent to take a test given for juniors, before entering the senior class.  She was only a sophomore at the time she took the test and passed it easily.  When she was called to explain why she had taken the test, she explained that she had been a hall monitor, and a Senior came to tell she had to take the test, even if she was sophomore.  Because of her high scores, she skipped her Junior year. She married her high school sweetheart Frank L. Miles August 5, 1950 at United Presbyterian church in Laramie. They lived in  Memphis, Key West, Corpus Christi while in the service, then returning home to Laramie.
Joan has been a Wyoming cowboy fan, she's had her seat at football  for over 50 year's, and never  missed any games until last year, Cowboy football was her love, and a Rockies fan. She played golf and was a member of Jacoby woman's golf club. Member of the Laramie Women s club, and extension club Busy Bee's.  She started bowling when she was 13 at the Maple Way and has been bowling ever since.  Her hobbies were a little bit everything, China painting, cross stitch, knitting, crochet, and she sewed most of our clothes growing up, we always clothes no one else ever had. She always went without, so we could have the best.  We will miss her everyday, but her love shines through in her family.
Preceded in death, her husband, parents, and her infant son David Lee.  Survived by her daughters, Mariellen Sullivan (Bob), Patricia Ann Miles, Lisa Jo Bryant. 4 grandchildren and 9 great grandchildren. Jennifer Sietz (Greg) and children; Vesper, Sloan, Payne.  Robert Sullivan (Jesse) and children; Jackson, Raleigh, Flynn.  Kyle Bryant. Erin Bryant (Enrique) and children; Analicia, Noe, Adalyn, Her sister Maribelle Gaskell, and nephew Kenneth Gaskell and niece Kristi Bowen
Service will be at Trinity Lutheran Church September 21 @ 3:00 107 South 7th Street.  In lieu in flowers, please donate to Hospice of Laramie. 1754 Centennial Drive, Laramie, Wyoming 82070