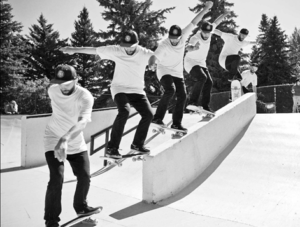 Jeremy Zubik passed away on September 19, 2017 after an extended bout with cancer while fighting insurmountable odds.  Due to advances in science, research and his will to never give up he was able to extend his life another 10 years from the time he was first diagnosed at age 17.  He was born on March 2, 1990 with his fraternal twin brother Corey.  He spent his first two years of life in Big Timber, Montana and then moved to Cody, Wyoming where he lived through High School.  He attended Northwest College in Powell, Wyoming and received an A.S. in Science.  He moved to Laramie, Wyoming where he took various classes, worked, played and met many people.  This was where he called home.
Jeremy was introduced to the outdoors early by his family and he loved to be outside.  He was inspired by high places.  His favorite passions were skateboarding and snowboarding.  Although extremely difficult sports to master and very hard on your body, he became an expert at both through hard work, determination, and dedication.  He also liked to rifle and bow hunt, upland bird hunt, fish, backpack, ride his motorcycle and just be outside.
During the non-snow months he worked for the U.S. Forest Service on the Laramie Ranger District timber crew marking trees and helping administer timber sales.   He also planted trees and fought fires. His efforts helped produce sustainable timber resources for future generations while taking care of the land.  He was extremely well liked and respected by his coworkers.  He was well known for his upbeat attitude and dry sense of humor.  He had a strong work ethic.  As a result, he became part of the Forest Service family.  During the winter months Jeremy worked at the Snowy Range Resort outside of Laramie as a snowboard instructor.  Again, he touched the lives of many coworkers and students he helped to improve and become accomplished snowboarders.  He worked hard and played hard.
Jeremy was a tough, determined young man.  He was a fighter always pushing the limits of his capabilities.  Although he had numerous surgeries and chemotherapy treatments that were extremely detrimental to his overall health and body he rarely complained.  As soon as he was able, he would be right back outdoors doing the activities he loved.  Although life can be extremely harsh and unfair he would pick up the pieces and move on.
Throughout his 27 years of life on this earth Jeremy left his mark with his many friends, family, coworkers and caregivers. The skateboarders and snowboarders who shredded with Jeremy helped him recover from his injuries and sickness and reminded him that life is too short to whine about what has happened in the past.  He always seized the day with his tenacity and resilience.  He was a unique individual whose life was cut way too short.   He was a true hero.
In lieu of gifts, donations or flowers when you are outside doing something you enjoy take a moment to think of Jeremy, reflect on his life and what he stood for.
Jeremy is survived by his father and mother Ray and Donna Zubik, his sister Cassie Ingraham, and his fraternal twin brother Corey Zubik.    He is also survived by many aunts, uncles, and cousins.
A memorial service celebrating his life will be held on the Medicine-Bow National Forest at a later date.