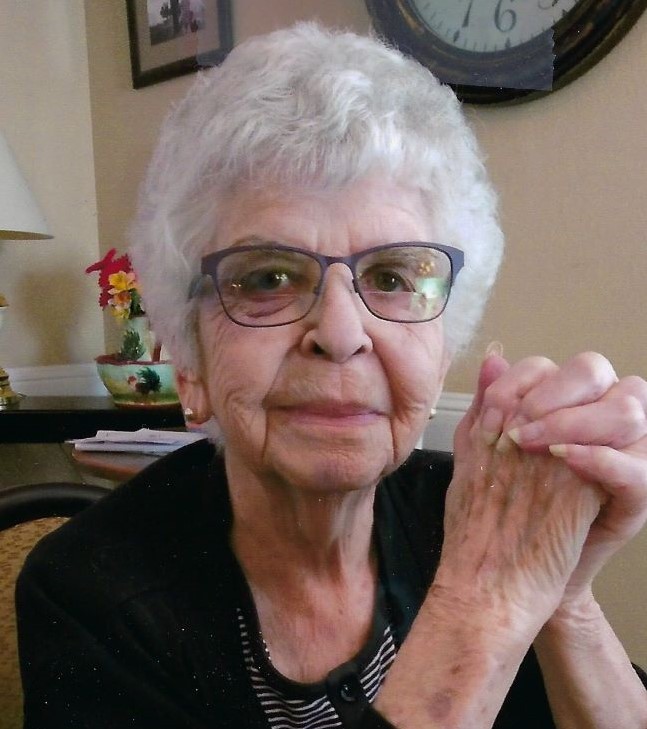 After 93 years our beautiful mother Jeanne Ann Blakeman of Laramie died November 6, 2022 at Ivinson Memorial Hospital and has gone to be with her loving husband.
She was born July 11, 1929 to Harold A. and Hilda F. (Shaw) Smith in Manchester, Iowa. Jeanne moved with her family from Iowa to Wyoming at a young age. During her younger years she, her mother and brother followed her father around Wyoming, Utah, and Colorado while he worked for AT&T finally settling in Rawlins. She met the love of her life, Richard E. Blakeman at a Valentine's dance while living in McFadden. They married August 3, 1947 in Laramie.
After she finished raising her family, she began her working life at the Medical Group in Laramie and eventually moved on to the Albany School District as an Administrative Assistant until her retirement in 1988.
She enjoyed spending time at home, cooking, baking, and cleaning. She also enjoyed traveling to various locations around the United States. One of her greatest pleasures was when she became a grandmother and great grandmother…she loved her grandchildren and great grandchildren more than one could imagine.
She is preceded in death by her parents; her husband; her grandson, Dylan Allen; her brother, Donald L. Smith; and her numerous brothers and sisters-in-law.
She is survived by her children, Richard W. Blakeman of Denver, CO, Stanley L. Blakeman (Kathleen) of Knox, NY, Kellie A. Southards (Jim) of Laramie, and Anita J. Allen of Laramie; her grandchildren, Kourtney A. Faycosh (Jeff), Gregory J. Southards (Mandy), Alexandra Allen; her great grandchildren, Sam Southards, Ady Faycosh, Haley Southards, McKinley Southards, Lucas Southards, and Nora Allen. She is also survived by her in-laws, Dorothy Smith, Diana Marlow, and Twila Blakeman.
Memorial donations may be made to the Wyoming Alzheimer's Association, 2232 Dell Range Blvd #101, Cheyenne, WY 82009 and/or the Ivinson Memorial Hospital Foundation, 255 North 30th St. Laramie, WY 82072.
Private family services will be held at a later date.