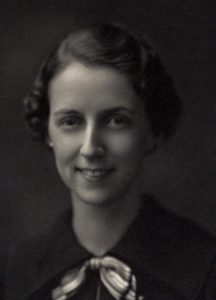 Jean Marion Reid Linde of Laramie passed away peacefully on September 9, 2018 with her family in attendance at Laramie Care Center.  She was born in Osage City, Kansas on September 6, 1914 to John and Frances Reid.  As one eight children she was a twin to her brother John.   Being born first she often teased her brother of this fact and always good heartedly!  It is remembered in her early years she cared deeply and lovingly for others a trait that she carried on throughout her extraordinary long life.
Jean graduated from high school 3rd in her class of 40 in 1932.  Jean endured the depression and work was hard to find.  She spent time working various jobs to support the family during her father's illness.  Jean attended Strickler's Business College in Topeka for two years.  She excelled in all facets of business and went to work for Shideler's Real Estate and Investment Company where she worked for nine years first as their bookkeeper, secretary and eventually advanced to vice-president of the company.  As a young woman Jean excelled in all that she attempted in the business world and beyond.  Many of her employers wrote letters of support for this extraordinary young woman. It was discovered that Jean's skills were beyond the scope of women working in a man's world during the 1940's.
During a military service club dance during WWII, Jean met her future husband Arthur Linde who was in the Army at Ft. Riley, KS.   A couple of his troupe members distracted a guard and they crawled in through the bathroom window at the dance to join the members of the Business Girls League of Topeka, KS which Jean were a member of.   They spent the entire evening dancing and getting acquainted.  Art spent many years overseas in Africa, Sicily and Italy during the war.  Upon his return Jean traveled to Wyoming in 1945 to meet the family with Art.   Art had found the love of his life and they married in Topeka, KS on March 17, 1946.  The newly married couple traveled to Wyoming in hap – hazard quite old Terraplane automobile.  They broke down in Colorado and automobile parts were scarce.  The last words of the mechanic were to "Take it easy and pray like hell! " Upon arriving In Laramie while getting established they lived in a hotel and small apartment on 9th Street.  The Linde's eventually started a store in Laramie named Linde's Gun Shop.  The store burned down during the historic Holiday Fire in 1948. After the fire they started a shoe shop and eventually re-opened their store named Linde's Sporting Goods.  The store was located across from the Connor Hotel and was closed in 1973.
Jean continued her career at the University of Wyoming with the Department of Defense- Army ROTC.  She retired in 1976 and began her many worldly travels.  Her persona as the "world's grandma" came from many comments of traveling companions.  She enjoyed her independence with her companion of many years, Copper Benintendi .  They enjoyed evenings playing scrabble and many days out fishing the Little Laramie River.
Jean's hobbies and interests include:  hunting, fishing, sharp shooting and  all outdoor activities.  She was an avid reader, artist and enjoyed all types of crafting, needlework and quilting.  Komforter 's for Kid's began with the efforts of a longtime friend, Louise Sexton. Together along with many inspired Laramie community members they designed and completed over 3000 comforters.  These were donated to various EMT services in the Laramie area ending in the year 2002.
She was a faithful volunteer and community member who participated in services such as blood drives, Laramie Soup Kitchen and other events in the Laramie area.  Her enthusiasm was infectious! She also was a member of the Magic Thimble Quilters.  These quilts were handcrafted and donated to local organizations such as the Albany County Public Library, Laramie Plains Museum and the Ivinson Hospital Auxiliary, to use for their fundraisers bringing in thousands of dollars. As a member of the Trinity Lutheran Church she made comforters for special needs residents and burn out victims.  She was the oldest member of the "Friends Club" with majority of members being under 65 years of age.  In 2002 Jean attended her 70th Class Reunion.  She was the only member that attended from the Class of 1932.
In 2004 Jean's health deteriorated and she continued to live at home with assistance until 2012.  At this time she entered Laramie Care Center where she received the most excellent care and compassion throughout her remaining years.  She was preceded in death by her parents and all seven siblings.
She is survived by her son Joseph Edward Linde of Laramie, grandchildren, Jerron and his wife Brittney of Laramie, Nicholas and wife Samantha of Casper.  Grandchildren, Avygail of Casper and Merrick of Laramie.  Her grandchildren meant the world to her. When her first great-granddaughter was born she was happiest of all the grandparents.  Her love for her grandchildren was unequalled.  She is also survived by numerous nieces, nephews, as well as grand-nieces and nephews.
Funeral services will be held September 17th at 9:30 a.m. at the Trinity Lutheran Church 107 S. 7th Street in Laramie WY.  Interment will follow at Green Hill Cemetery.  In honor of Jean and all she loved in the Laramie community there will be a Celebration of Life including a luncheon for family and friends at the Alice Hardy Stevens Center , 603 E. E. University Ave. from 11:30- 2:00 pm.  You are all welcome as she loved you all!
As an expression of sympathy all memorial contributions may be sent to Laramie Fire Department Firehouse #1 "Komforter's for Kids" in memory of the program started by Jean Linde and Louise Sexton.