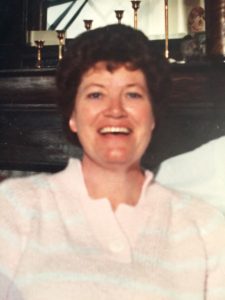 Jean G. (Butch) Stevens left us to be with the Lord, Jesus Christ on January 19, 2018 in Saratoga, WY.  Jean was born June 9, 1937 in Rawlins Wyoming.  She was raised in Baggs, WY till about the age of 3 and moved to the Hugus homestead in 1940, in Saratoga WY.
She lived in Saratoga most of her life and met Robert (Bob) Stevens at her home in 1952.  They courted and married in March 6th of 1955.
Jean and Bob bought the old homestead and settled there to raise their family. The Stevens still reside at the old Homestead.
Jean was an avid hunter and would fish but that was not her real passion.  She loved bowling and taking her family on picnics to Jack creek and the old Edwards place.  She loved the mountains, especially the view of the mountains from her front yard.  She would sit out there in the summer just enjoying the view.
Her door was always open to anyone.  She tried to help out those in need, no one was ever denied a spot at the dinner table, coffee was on and you were always welcome.
Jean was room mother to all of us in school. She knew all the kids and their parents, and was never afraid of paddling someone's behind if they needed it. Most kids feared her but yet loved and respected her.
She was a loving hard working Mother and Grandma.  She deeply loved her kids and grandchildren.
Jean suffered with Alzheimer's for the past 18 years and came to rest with her family at her side.
She was proceeded in death with her daughter Norma Stevens Murphy, her Mother Edith E. Wise, Her Father Alfred McCargar, Brothers, Robert McCargar, Francis McCargar, Sisters Margaret Ream, Rose Slinde, Jane Ream, Norma Bromely and eight half brothers and sisters.
Survived by her Husband Robert James Stevens, Sons Robert (Corky) Stevens, Richard Stevens, wife Debbie Stevens, Randall Stevens, Daughters Becky Simmons, husband Rick Simmons, Barbara Williams, husband John Williams, 11 grandchildren and 13 great grandchildren.
There will be no services held.  A family picnic will be held on her birthday June 9, 2018 in her remembrance.  If you would like to give donations or flowers please send them to the Saratoga Care Center or www.alz.org the Alzheimer's Association.