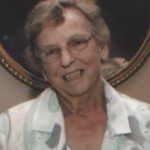 On February 27, 2022, Janet June Culross passed away peacefully in Laramie, Wyoming, at the age of 85.
Janet was born March 13, 1936 in Frankfort, Indiana, to Milroy and Maidie June (Huffer) Brammell.
She was preceded in death by her parents; her 5 brothers, Reuben, Donald, Harold, Paul, and Robert Brammell; her 4 sisters, Dorothy Hodgen, Ruth Bible, Thelma Moon, and Betty Graham; and her son-in-law, Glenn McArdle.
Janet, a lifelong resident of Frankfort, was a loving wife and mother. She is survived by her devoted husband of 67 years, Bill Culross; their 4 children, Cindy McArdle, Andrea (Joe) Trimarco, Elaine (Scott) Skurzewski, and Chris (Kim) Culross; and their 5 grandchildren, Kati and Kelsey McArdle, Joey and Joshua Trimarco, and Alyssa Skurzewski.
A Celebration of Life will be held at a future date in Frankfort, Indiana.
In lieu of flowers, donations may be made to Hospice of Laramie, 1754 Centennial Dr, Laramie, WY 82070.
To send condolences or to sign the online guestbook go to www.montgomerystryker.com