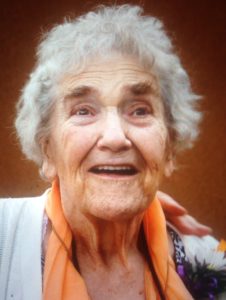 Ivy E. Pearce, 89, of Laramie, born to Oscar and Bertie Rogers; passed away on Saturday, June 2, 2018 at Hospice of Laramie. Ivy was a kind and passionate woman who was devoted to church, community and family. She was married to Claude Pearce and together they had a son, John.
During her life Ivy enjoyed genealogy, sewing, and teaching. She taught in rural school as well as junior Sunday School, and additionally helped 4-H youth learn cooking.  She was a member of the Wyoming Homemaker Extension Club, where she received the Qualy Award. Ivy was a dedicated member of the Church of Jesus Christ of Latter-day Saints, where she also worked as a custodian. Her greatest roles in life were loving wife, mother, grandmother, and great-grandmother.
Ivy is proceeded in death by her parents, husband Claude Pearce, daughter-in-law Valerie Pearce, and siblings Clint Rogers, Emma Frances Rogers, and Harry Rogers.
She is survived by her son John Pearce of Laramie, WY and step-daughter Etta Pearce of Moorcroft, WY.  She is further survived by grandchildren Evan Pearce and Brent (Nancy) Pearce; and great-grandchildren Elaine, Katherine, and Daniel Pearce; her sister, Shirley Bergmann; her cousins Carol Sederlin and Gary Thompson also survive her.
A visitation will be held from 4-6 p.m.  on Monday, June 11, 2018 at Montgomery-Stryker Funeral Home and again beginning at 8:30 a.m. Tuesday, at the church prior to services.
Funeral services will be held 10:00 a.m. Tuesday, June 12, 2018 at the LDS Church on 15th and Baker. Burial will follow at Greenhill Cemetery.
Memorial contributions can be made in Ivy's name to the Hospice of Laramie.