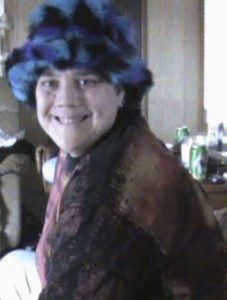 Iris N Klein. 45 Of Laramie passed away December 21, 2017 at her residence peacefully.
Iris was born in Milwaukee Wisconsin, to her parents Byron Rutland, And Nancy Martino. In addition to her parents she is survived by her life partner, Amanda McMurtrey; her daughter Bailey Klein; her brothers Kenny Degler, Jimmy Martino, Joey Martino, Justin Martino, Josh Rutland, Jesse Rutland and George McMurtrey; her sisters Kim Degler, Rhonda Degler, Jennifer Martino, Amanda Rutland, Tiffany Martino and Samtha Olswanger; her step-parents Jay Martino and Tammy Rutland; and her mother in-law, Deb McMurtrey. She is also survived by her many aunt, uncles, cousins, nieces and nephews.
She was a kind gentle person with a heart of gold and a trucker's mouth. She lived life on her own terms, she would lecture you on how badly you messed up and then would be there to help you fix it. She was a jokester, loved life, music, babies and animals.
Growing up she was in 4-H, FFA and band. She loved Beatrice her cow. She attended and graduated from WyoTech
She loved all kinds of music from classical, country and even rap.
She worked for Kirby vacuum, as a bouncer at Wild Willy's, Hastings, U-haul trailers, and Petro as the General Manger. Before becoming a mother to her beautiful daughter, she helped her mother take care of her brothers and sisters for several years. She took care of her many nieces and nephews as well.
Iris was proud of her pretty, bright, and beautiful Tattoos, but they were pale compared to her colorful personality.
There will be no services scheduled at this time, cremation has taken place.
Memorial contributions may be made to the Iris Klein Memorial Fund c/o ACPE Federal Credit Union, 2835 Grand Ave., Laramie, WY 82070.