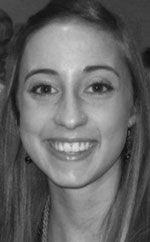 Ina Renee Goodman, of Panama City, Florida, began her eternal life April, 5, 2016. She was born July 20, 1994, to her parents, Leonard Goodman and Vicky Goodman. Ina had proven through her years to be a fighter and a survivor. From the time she was a baby, when she was hospitalized with a massive infection, to her time as a college student, Ina was the epitome of perseverance. Ina seized each day as if it were her last and found joy in many things, such as spending time outdoors.
Her love for outdoor adventure started early, as she swam all by herself when she hit the water in the cold springs outside Panama City for the first time at 4 weeks old. She showed her perspicacious nature by learning to tie her own shoes and catching her first catfish at the early age of 3.
As Ina grew older, her family moved from Florida to Cody. When Ina hit her teenage years, she was always a positive girl looking to find something to smile about, whether that be excelling in her academics, reaching high notes in choir or running to exceed her own personal expectations in track. Upon graduating from Cody High School, she gained a 4.0 GPA in high school. For this, she was awarded several scholarships including the highest level of the Hathaway and the Kaiser Foundation Scholarships, which in-turn paid for her entire college tuition and living expenses. While in college, Ina was on track to graduate in May 2017 with a 3.5 GPA, majoring in biology and environmental and natural resources with a minor in fish and game. Ina was also involved in several extracurricular activities such as the triathlon team, trail running with her dear love Zach Jacob Wozny and her sorority Chi Omega. Ina also loved to participate in many volunteer work opportunities like cleaning up the cat sanctuary once a week, environmental sustainability in Moab, Utah, and many Make-a-Wish events for her sorority.
Ina was an inspiration to many while she was in college, including her mother, who is currently pursuing her GED and staying in shape for the hikes they shared. Ina was a veracious reader and had a passion for writing and reading poetry. She had an unconditional love for the outdoors and nature. Ina also shared this love with her mom Vicky that was conveyed on many of the hikes they shared. They hiked through Glacier National Park and the Tetons, as well as throughout all of Yellowstone together. In 2015, they spent a week trekking all around the Canyonlands in Utah gazing upon the beautiful arches there. Ina snuck her way into many peoples' hearts by being the free-spirited, adventurous and fun-loving person she was. Her witty humor could fill any room with laughter and happiness. Ina's beautiful eyes and her large and gracious smile put those that surrounded her at ease. Her peppy and excited attitude was always daring everyone to go a little bit further. Ina was dedicated to her academics and spreading love to the many that were close to her. Ina was very spiritual, as evidenced by her writing and poetry, which was greatly influenced by her love for the outdoors. Her spirituality was incredible because it drove her to many of the concrete ideals, morals and values she kept close.
She is survived by her parents Leonard and Vicky Goodman; brothers Leonard Samuel Goodman (Jeanne), Steven Goodman and Raymond Goodman; and fiancé, Zachary Jacob Wozny. She will be forever loved and is greatly missed by her family, many college friends, and everyone whose life she touched.
Services for Ina are at 2 p.m. Wednesday, April 13, at Montgomery-Striker Funeral Home, 2133 Rainbow Ave. There will be a candlelight vigil at sunset Tuesday, April 12, at Fraternity Mall. Services for are also planned for 5:30 p.m. Saturday, April 16 at The Terrace in Cody.
A memorial donation may be made to the Ina Goodman Memorial at Valley Federal Credit Union (P.O. Box 1268 Cody, Wyoming 82414).