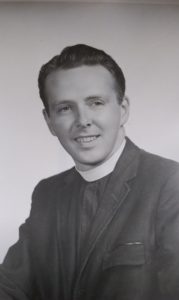 Howard Lee Wilson, 92, of Laramie, died December 24th, a fitting finale for an Episcopal clergyman ordained for sixty-four years who loved the Christmas Eve service more than nearly any other. Born November 1, 1925, to Adolph (Pipe) and Ruth Wilson in Canton, IL, Howard grew up in Chicago until joining the Navy in 1943 after graduating from high school. Having perfect pitch let him qualify as an instructor on the, then, newly-developed sonar used for anti-submarine warfare.
After the war, he attended North Park Junior College in Chicago, winning multiple journalism awards as editor of the school's newspaper. When his parents moved to Wyoming, Howard enrolled in the University of Wyoming, graduating Phi Beta Kappa in 1950 with a degree in history.
In college, he'd been active in Canterbury Club and was a lay reader at St. Matthew's Cathedral. He developed a close friendship with Bishop J. Wilson Hunter who encouraged Howard to pursue the ministry. He did so, attending the Church Divinity School of the Pacific and graduating with honors. While there, he began dating Ruth Saathoff whom he'd previously met in Laramie. They married June 11, 1952.
They returned to Wyoming where Howard became curate of St. Mark's, Casper. In 1955, he was named Vicar of St. Thomas', Dubois and St. Helen's, Crowheart where they adopted their oldest daughter Mary Lee. The family lived in Laramie from 1958-1962 while Howard served as the Archdeacon of Wyoming. Daughters Margaret Ann and Cheryl Kay were born during this time. They then moved back to Casper to start a new church, St. Stephen's, an exciting time for the young family.
Howard had the honor of being called to be Dean of St. Matthew's Cathedral in 1967 and served there until 1979. In a state with few clergy, Howard had the opportunity to serve on many levels. For a while, he was in charge of Christian Education; he was elected as a Deputy to various General Conventions from 1964-1979; he served on the board of the Cathedral Home for Children; he edited the "Wyoming Churchman;" as well as being involved with every other entity of the Episcopal Church in Wyoming.
In 1976, Howard received a Doctorate of Divinity degree from the Church Divinity School of the Pacific. Nationally, he was Chair of the Liturgical Commission during the trial and adoption of the 1979 Prayer Book. He was active in Rotary Club, serving as Chaplain at two District Conferences, and he won a district award for a Christmas message published in "The Rotary Spoke."
After stepping down as Dean of the Cathedral, Howard accepted a position with the University of Wyoming's Alumni Association. For a couple of years, he traveled the state organizing county alumni groups.
In 1982, Howard returned to the ministry becoming the priest at both St. Andrew's, Grove, OK, as well as St. John's, Vinita, OK. He served both parishes until retiring in 1990. He continued to take services across the region until he and Ruth moved back to Laramie in 2012 to be nearer Margaret, Cheryl, and their families.
In some of his own writings, Howard said that throughout his life a particularly meaningful Bible verse for him was Colossians 3:15 where Christians are reminded to "be thankful." He wrote, "I have had much to be thankful for: people, places, church, family, and a loving Father, Son, and Holy Spirit.
"Thankful, too, am I for small churches, communities, colleges, and seminaries. Many in those places are there because they wish to be. They love what they do and share it unselfishly and lovingly. They are not the stuff of headlines, but they keep the fabric of many things together. There have been times when I have believed that occasionally I fit this category. If so, thanks be to God!"
Howard is survived by his wife of 65 years, Ruth Saathoff Wilson; daughter Mary Johnson, husband Beau, their children and spouses, Brenna and Josef Christman, and Kyle and Allie Johnson; daughter Margaret Wilson, husband Neil Humphrey, daughter Jessica Stalder and grandson Bear; daughter Cheryl Baker, and husband Doug.
Services will be held at St. Matthew's Cathedral, Thursday, December 28th at 2:30 p.m. Memorial donations may be made to Hospice of Laramie; Interfaith-Good Samaritan 710 E. Garfield St, Rm # 127, Laramie; or the national Episcopal Relief & Development fund.