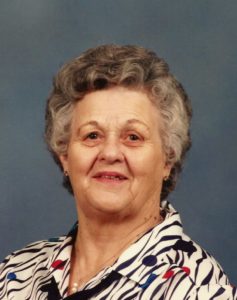 Hazel R. Roth, 94, of Laramie, took her last breath and her first breath in Heaven on November 21, 2017 at Laramie Care Center.
She was a kind soul that talked to everyone and would do anything for anyone.
Hazel was born April 16, 1923 in Ashby, NE to Hans and Leola Dubs.  She grew up on her father's homestead ranch, south of Ashby.  She attended a one room country school and later worked on many ranches in the area.  She loved those old sandhills and the people who lived there.
Hazel married Wray Roth July 2, 1955 in Arthur, NE, where they lived and worked until 1960.  They then moved to Sterling, CO, where Hazel lived until 2003.  She then moved to Spring Wind Assisted Living in Laramie, WY. Later, she moved to Laramie Care Center, until the time of her death.
Hazel was proceeded in death by her parents, her husband, her brothers, Jack Dubs and Pete Johanson, and infant son, Bruce.
Hazel is survived by her children, Lora (Tim) Zick of Omaha, NE, Mark (Carmen) Roth of Laramie, Waldo (Deb) Roth of Laramie, Darline Nott of Sterling, CO, and Gary (Chris) Roth of McCook, NE.  She is also survived by her 12 grandchildren, and numerous great grandchildren and great-great grandchildren; her brother, Art Dubs of Ashby, NE, and her sister, Enid Kicken of Shelton, NE.
Funeral services will be held on Saturday, December 2, 2017 at 11:00 a.m. at the Lutheran Church in Hyannis, NE.
Memorial contributions may be made to the American Heart Association.