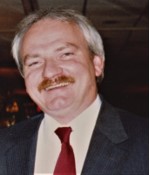 George Joseph Bohdan, 66, of Laramie, Wyoming passed away unexpectedly at his home, and is now jammin in the heavens. George was born in 1952 in Elizabeth, New Jersey to Boleslaw and Aleksandra Bohdan. He attended Linden High School and Kean University while living in New Jersey. Throughout his life, George also lived in Pennsylvania, Virginia, California, Ohio and Arizona, until he settled down in Wyoming.
After many years George retired from the University of Wyoming IT department as a network and telecommunications specialist. In his free time George loved fishing, hiking the trails and climbing the mountains near his home. He was an avid sports fan, self-taught guitarist, song writer and poet. He was also a member of the Jacoby Golf Club Board.
Preceding him in death are his parents; sister and brother-in-law Mary and Stanley Kaziewicz, and nephew Charles Dzugan.
Surviving are his siblings Danuta Bak, Josephine (Stefan) Rudnicki, Agnes (Edward) Plotkin, Theresa (Steven) Schiffman, John (Wendi) Bohdan, and Lily Ann (Martin) Reiman. George is further survived my many nieces and nephews.
Memorial contributions can be made in George's name to the Laramie Animal Shelter, 1064 N 5th St, Laramie, WY 82072.