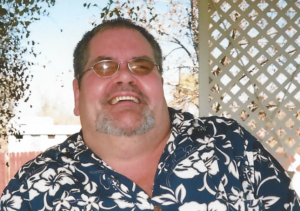 George "Jeff" McGrail, 58, of Denver, Colorado died Thursday, August 31, 2017 at Hospice of Laramie.
He was born July 8, 1959 the son of George and Joyce (Weidinger) McGrail in Billings, Montana.  His early age was spent in Montana before moving to Laramie where he graduated from Laramie High School.
In 1976, he moved to Denver where he worked as an apartment manager.  He enjoyed he birds and his dog.
He was preceded in death by his grandparents, his mother Joyce and a brother Bryan.
He is survived by his father George R. McGrail of Laramie, WY; his sister Becki (Ray) Dierking of Broken Bow, NE; and two nieces, four nephew, three great-nieces and one great-nephew.
A celebration of life and open house will be held Saturday September 2, from 2 p.m. until 4 p.m. at his father's house, 1436 Bridger Street in Laramie.
Memorial contributions may be made to the Meredith and Jeanne Ray Cancer Center, 255 No. 30th Street, Laramie, Wyoming 82072.