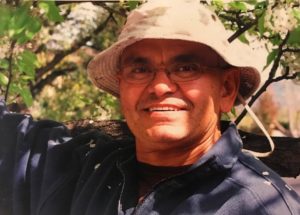 Frank (Peter) Sanchez, 54, of Laramie, passed away on Friday, May 17, 2019 in his home in Medford, Oregon. He was born on February 28, 1965 in San Luis, CO to Clorovio (Jose) and Rosana Sanchez.
Frank enjoyed the outdoors with his family, including outdoor sports, such as fishing, mountain skiing, going to the beach, hiking in the mountains, bicycling and walking his dogs. But, most of all, he enjoyed spending time with his family, including playing games, gardening, cooking, solving puzzles, and reading (including the bible). He loved working on cars and "tinkering" around with mechanics and other things around the garage and the house. Frank was a very talented person and very creative. He enjoyed making people laugh. Frank is/will be missed by many.
He is preceded in death by his father, Jose, his elder brother, Delmer, and sister, Deleria.  He is survived by his wife, Debbie; his son, Luke; daughters, AnnMarie (Ria) and Robin Erika; his grandson, Lyric (all in Medford, OR); his mother, Rosana (Laramie); his siblings: Vivian Rayos (Marcelo) and Patrick Sanchez (Laramie) and Carla Sanchez (Mark Emery; Cheyenne); and numerous nephews and nieces.
Funeral services will be held at 10:00 a.m. Saturday, July 6, 2019 at St. Paul's Newman Center, 1800 E. Grand Avenue, Laramie, WY.
Condolences may be made to: Debbie Sanchez & Children, 37 Bel Air Ct, Medford, Oregon 97504; and/or Rosana Sanchez & Family, 223 Johnson Street, Laramie, WY  82070.