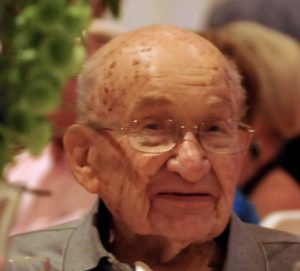 Everett Wallace Denzin, 93, passed away peacefully at home in Laramie on Tuesday, January 3, 2017 with his wife, Erma, and family close by.
Ev, as he was known to family and friends alike, was the kind of guy that you just couldn't resist loving.  Typically with a mischievous twinkle in his eye, he would throw you a wink or a smile that let you know he was listening and confirm what you would quickly come to realize – he was truly one of a kind.
Born on April 27, 1923 – the proud son of Herman and Irene Denzin – Ev would call a farm near Holton, Wisconsin home throughout his childhood.  While working his milk route, he made the acquaintance of Erma Barts at a neighboring farm and the two were married on February 20, 1946.
Grounded in faith, their family grew from two to four over the next several years with the addition of two daughters – Bonnie and then Jane.  In 1952, the young family made a significant transition to Denver, Colorado where they owned and operated a motel.  While in Denver, their youngest child, Randy, was born.
Ev continued to lead his family's real-life western adventure when he and Erma, together with the kids, moved to Laramie, Wyoming in 1955.  Here, they built roots and the life most would associate him with.  Ev initially worked alongside his father as a contractor and craftsman.  He joined the University of Wyoming Athletic Department in 1969 where he worked diligently until his retirement in 1986.
Ev transformed his love of family, outdoors, fishing, traveling, turf and baseball in to a full-time retirement.  He and Erma – or "Double E" as their CB handle branded them – motor-homed, traveled to see family and meticulously maintained their Laramie home.  They were called further west to Apache Junction, Arizona where they spent winters for the next 21 years.  He made time to enjoy a good ball game on TV, a solid nap in his chair, coffee with friends, supervising a project and was always an amazing son, husband, dad, grandpa and great-grandpa at every turn.
It is now time to celebrate this life well-lived.  Please join Erma, Bonnie and Ken Braisted, Randy and Judith Denzin and our extended family to honor the legacy he has left behind in all of us who had the distinct pleasure of knowing and loving him.  Rest assured that Ev will be watching over us from the worn seat of his "Old Blue" International, offering a honk and a wave as he reunites with his parents, daughter Jane and brothers Butch and Merritt in God's kingdom.
Visitation will be at 9am on Monday, January 9 at Zion Evangelical Lutheran Church, 406 South 19th Street, with a service at 10am followed by interment at Greenhill Cemetery.  In lieu of flowers, memorial donations may be made to Zion Lutheran or a charity of your choice in Ev's name.
The family would like to sincerely thank and express our gratitude to Spring Wind and Hospice of Laramie for the excellence in which they perform their jobs to provide expert care and gentle support.