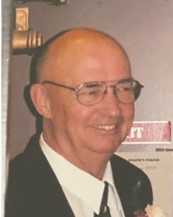 Eugene (Gene) J. Nelson, 90, of Apache Junction, AZ passed away on December 21, 2022 following a brief illness.
Gene was born on December 15, 1932 to George and Maye Nelson of Midwest, WY. After his father passed away, the family moved to Laramie, WY where he grew up and graduated from Laramie High School in 1950. Gene was a proud member of the US Army, serving 2 years in Germany. After completing his military service, he returned to Laramie and began working for Mountain Bell as a telephone lineman. Gene worked his way into management and held numerous positions in Afton, Kemmerer, and Cheyenne, WY. He ended his career in Littleton, CO where he retired after 39 years of service.
Gene was preceded in death by his parents, brother Byron Nelson, sister Rita Grigsby, and first wife Roberta (Berkie) Nelson. He is survived by his wife Sherry Nelson, daughters Patty Nieters, Chris Garthe and Teresa Nelson; step children Mary Jacob, Gary Redding and Doug Redding. He was the proud grandpa of 14 grandchildren and numerous great grandchildren.
Gene was a member of St. George's Catholic Church in Apache Junction, AZ and was a member of the Knights of Columbus. He enjoyed bowling, golfing and cheering on the Colorado Rockies and Denver Broncos.
Funeral services will be held at St. Laurence O'Toole Catholic Church in Laramie WY on Tuesday, May 30, 2023 at 11:00am. A burial service will follow at Green Hill Cemetery. A reception will be held at the Lincoln Community Center, 365 W Grand Ave., following the graveside service.
In lieu of flowers, please consider a donation to St. Joseph's Food Pantry, 206 Van Lennen Avenue, Cheyenne, WY 82007.