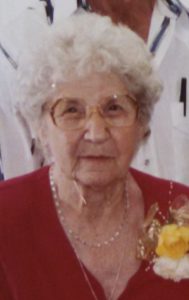 Ethel C. Goodner, 98, of Laramie, died Sunday, August 14, 2016 at Laramie Care Center. She was born June 15, 1918 in Enid, Oklahoma to Ben and Louise (Mirkes) Kersen.  She married Lynn Robertson on October 9, 1941. Lynn passed away on March 10, 1953. She later married Everett Goodner November of 1958.
Ethel loved animals, doing crafts and gardening. Most of all she loved her family and spending time with them. She was known to have an endless amount of unconditional love to all who knew her and was around her.
She is preceded in death by her parents; her husbands, Lynn Robertson and Everett Goodner; her son, Bernard "Lee" Robertson; her step daughter, Bonnie Adams; her sister, Ann Robertson; and her brothers, Nick and Hank Kersen.
Ethel is survived by her children, Lynnette Barlow (Bill) of Laramie, WY, Patrick Robertson (Lois) of Springdale, Arkansas; and her step son, Art Goodner of Colorado; her many grandchildren, great grandchildren, and her great-great grandchildren.  She is also survived by her brother Walt Kersen of Clarksville, Arkansas.
Per Ethel's request cremation has taken place and graveside services will be scheduled at a later date in Arkansas.
"A limb has fallen from our FAMILY TREE, that says grieve not for me, remember the BEST TIMES, the LAUGHTER and the SONG, and most of all the good life I lived while I was STRONG"