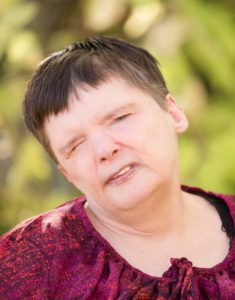 Elizabeth "Liz" Kathryn Webb
October 31, 1962 – June 17, 2019
Elizabeth "Liz" Kathryn Webb was born on October 31, 1962 to Joan Earl and Ewing Jackson Webb in Westerham Kent, England.  She was born with Jacobsen's Syndrome, a rare chromosomal disorder.  Despite having challenges, Liz thoroughly enjoyed life, and people thoroughly enjoyed her.  Liz lived in Lander, WY and was supported at the Wyoming State Training School from 1965-1996. While growing up, Liz enjoyed a special relationship with her maternal grandmother. Each Sunday, they would go to church and then out for licorice ice cream.   In 1996, Liz moved to Laramie and joined Ark Regional Services.  Liz was very social and active in the Laramie community.  She enjoyed spending time with her many friends, going out to eat, going to concerts and walks in the park.  Attending church each week was an important part of Liz's life.  She especially loved the music and singing with the choir.  Liz was always looking forward to her next vacation.  She and her longtime friend Ronnie ventured to Hawaii and Branson, MO, but the fun didn't stop there.  She also loved going on cruises, to plays, and anywhere she could gamble, which she fondly referred to as "ding-ding-ding".
Liz was preceded in death by her father, Ewing Jackson Webb; paternal grandmother, Elizabeth Webb; and her maternal grandmother, Kathryn Earl Hayes.  She is survived by her mother, Joan Earl; sister, Sarah Levy (Josh); niece Emma and nephew Zach; aunt Dawn Earl Chapman, and all of her friends she loved so dearly.
Services for Liz will be held Friday, June 21st at Ark's Center for Professional Development, 1160 N. 3rd Street in Laramie at 4pm.
Memorial contributions can be made to the 11Q Research and Resource Group, which is dedicated to supporting people with Jacobsen's Syndrome and their families through networking, cooperation with the research community and the resulting sharing of information.  Contributions can be mailed to 5155 Shotwell Street, Woodstock, Georgia, 30188 in c/o Linzee Thorpe Carroll.  Tax ID Number 04-3840156.