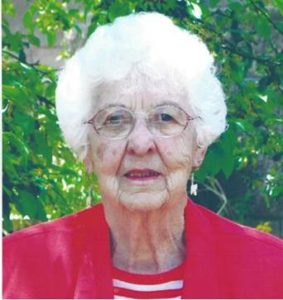 Eleanora Alice Ackerson, 95, passed away Wednesday, October 10th, 2018 at Eben Ezer Lutheran Care Center in Brush, Colorado. She was born on March 10, 1923 to Harry and Alice Davidson in Denver Colorado. She grew up in Saratoga Wyoming, and later attended the University of Wyoming earning her teacher certificate.
She married Walt Ackerson on December 6, 1941 in Scottsbluff, Nebraska. The two made Laramie, Wyoming home, and raised four sons; Gary, Terry, Wes and Danny.  Over the years Eleanora worked for several businesses in Laramie and was active in Women of the Moose. She also volunteered at the Senior Center.
Preceding Eleanora is her husband Walter Ackerson, siblings Amonda Whitman, Vi Rogerson, Billy Blackburn, Chet Davidson, Dan Davidson and Rae Redman, sons Gary and Terry Ackerson, and grandson Tracey Ackerson.
She is survived by her sons Wes (Kris) Ackerson, and Danny (Nancy) Ackerson, seven grandchildren, thirteen great grandchildren, four great great grandchildren and several nieces and nephews.
A memorial service will be at 10:00 a.m., Saturday, November 10,2018 at Montgomery-Stryker Funeral Home. She and Walter will be laid to rest together at Harmony Cemetery.