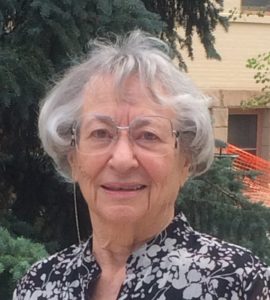 Eleanor Anne Marchant was born on her family's farm near the village of Arbuthnot, Saskatchewan, Canada on July 3, 1931, the daughter of Peter and Barbara (nee Schwartz) Miller.
Anne finished high school and secretarial training in Regina, the capital of Saskatchewan.  She was employed during school as a nanny and for the Saskatchewan Government Insurance company as a claims dispatcher after graduation. She met Leland (Lee) Marchant on one of his visits to Regina, and they were married in that city at the Holy Rosary Cathedral on July 24, 1954.  They honeymooned in New York City that summer.
The couple lived in Lee's hometown of Williston, ND, until 1956 when Lee enrolled at the University of Oklahoma in Norman.  After four years there, Anne had received her U.S. citizenship and given birth to two sons, Brent and Ted, and Lee had earned his BS degree in petroleum engineering.
In 1960 the Marchants moved to Morgantown, West Virginia where Lee was employed as a research engineer by the U.S. Bureau of Mines.  Mark, a third son, was born there.
In 1962, the Marchants moved to Laramie, Wyoming where Lee studied in the University of Wyoming petroleum engineering graduate program, and daughter Leigh Anne was born.
Anne worked to raise her four children, all of whom attended St. Laurence School, Laramie Junior and Senior High schools, and graduated from the University of Wyoming. She was an active parent, mentoring the kids through academics and sports. She was a member of the St. Laurence Home and School Association, which raised funds to benefit the school.
She was a member of the St. Laurence O'Toole Catholic parish and worked through the years in its charitable programs such as the Parish Pantry and in the St. Mary's group.
She was a member for many years and served as president of the Laramie Civic League, a group which advocated for city improvements and raised funds for ventures including a summer movie series for Laramie kids.
Anne was an avid University of Wyoming sports fan and booster, enjoying football, women's and men's basketball and volleyball, and was a long-time member of the Cowboy Joe Club. She was a member of the UW Art Museum.
She loved to travel and had visited most of the American states and Canadian provinces, and many countries in Europe and South America. She had corresponded her whole life with a cousin, Theresa (Resi) Schwartz, who lived in Kempten, Germany, and a highlight of her life was a trip with Lee, brother Guido and sister-in-law Iris Miller in 1988 to visit their parents' homeland in the former Yugoslavia, including a visit to the church where they were married, and to finally meet her cousin Resi.
Anne loved to bowl and was a member of various women's leagues over the years. Her favorite pastime, though, was bridge.  She was an accomplished contract bridge player and met many of her best friends through the years playing the game. In recent years, she had traveled to several American Contract Bridge League tournaments in places such as Denver and Las Vegas. She was never happier than when she added to her pot of ACBL Gold points.
Anne is survived by her daughter Leigh Anne of Laramie; son Brent and wife Dawn (Young) of Greeley; Brent's son Justin of Cody, his wife Angela and daughter Eleanor; Brent's daughter Lauren Tillery of Cody, her husband Brett and son Barrett; son Ted of New York City; and son Mark and his wife Tara (Cooper) of Stuttgart, Germany, and their daughter and son-in-law Kylie and Colt Jones of Loveland, CO and daughter Andrea of Colorado Springs. She is also survived by her sister-in-law Iris Miller of Gravelbourg, Saskatchewan and nieces and nephews Donna, Lois, Allan, Russell, Darrell and Norman and their families. She will also be missed by numerous friends, neighbors and beloved bridge partners.
She was preceded in death by her parents and brothers Guido and Werner, and her husband of 59 years, Lee.
A vigil and rosary service will be Monday, September 26 at 5:30 p.m. and funeral liturgy Tuesday at 10 a.m., both at St. Laurence O'Toole Catholic Church.  Interment at Greenhill Cemetery will follow the mass, followed by a reception at St. Laurence.
Those who wish may make memorial contributions to the National Stroke Association, National Lung Association, or to St. Laurence O'Toole Church.