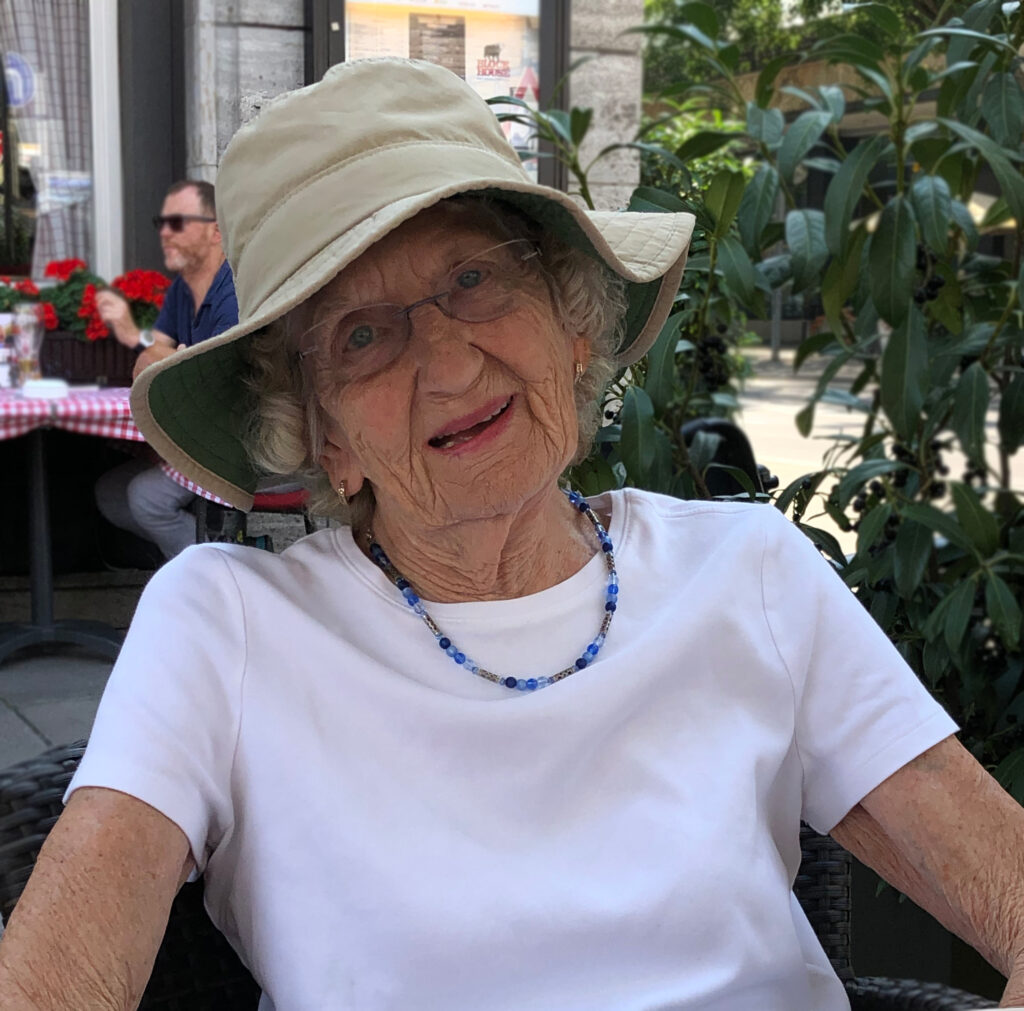 Edythe "Yvonne" Temsik was born on August 12, 1934, in Ford Cliff, Pennsylvania, where she was raised with her older sister Patricia and younger brother Bill (William). As a child, some of her cherished memories included time with her beloved grandmother and namesake, Edith Mildred (Bowser) Emmonds, and her aunt Janet (Emmonds) Wolfe, who was more like a sister to her. She loved helping her favorite Uncle Jim Emmonds (WWII POA) at his nursery, "driving the truck," and nurturing her lifelong passion for gardening. Fishing vacations to Canada or time at their mountain cabin were a family tradition, and as a young woman, "Vonnie" enjoyed water skiing for miles on the Allegheny River and kicking her heels high as a majorette with the marching band when attending Ford City High School.
She married her high school sweetheart Ronald James Temsik in 1956 after she graduated with a bachelor's degree in nursing from Allegheny General Hospital School of Nursing in Pittsburgh, and Ron returned from four years in the US Navy during the Korean War. The newlyweds moved to Boulder, Colorado, where Ron studied geology at Colorado University, and Yvonne worked at Community Hospital. Once they began a family, Ron left college and started a plumbing career with Chesbro Plumbing and Heating. Between 1958 and 1961, they became proud parents of three daughters, Tamara, Taiña, and Tara.
Always the adventurers, with summer camping trips throughout Colorado that included fishing and horseback riding, the couple decided they wanted their family to embrace the life-changing appreciation of living and traveling abroad while serving a greater good. In the early 1970s, they were among the first families (a short-lived pilot program) accepted into the Peace Corps, where their skills as Master Plumber and Nurse were in demand. First assigned to Valencia, Venezuela, Yvonne, who had advanced her nursing career to surgical floor supervisor at Boulder Memorial hospital, found working as a pediatric nurse at the central hospital in Valencia challenging, with limited resources and often heartbreaking conditions. Ron had the daunting task of equipping the facility with hot water using antiquated post-WWII water boilers and establishing a general maintenance program. During their two years of service in Venezuela, the family traveled extensively throughout the country, beach camping and exploring the exotic landscapes and culture. The family also traveled through Columbia and Ecuador, often connecting with other Peace Corps volunteers along the way.
Fueled by the rewards of volunteerism and their passion for living abroad, they extended their Peace Corps service for another 13 months when their term in Venezuela ended. The family moved to San Jose, Costa Rica, where Yvonne worked on developing nutritional outreach programs. Ron served as a plumbing consultant for the National Institute of Apprenticeship Training, translating manuals into Spanish and establishing course curricula. Again, they were fully immersed in the community and loved exploring the small country from coast to coast. At the end of their term, they purchased a used Ford F-150 pick-up truck with a small camper on the back, and the family took several weeks driving through Central America and Mexico when returning to Colorado.
Once settled in Boulder, Yvonne and Ron's wanderlust remained unsatiated. After several return trips to Costa Rica, their travels landed them on Ambergris Caye, Belize, in 1976, where they fell in love with the people of San Pedro village (population 400 at that time) and the laidback culture. The island soon became a yearly vacation destination, and in the early 1980s, they purchased a modest beach house a mile south of the village, making Belize a second home.
Yvonne continued her nursing career and became a medical quality assurance consultant in Denver, while Ron started a plumbing contractor business. Busy raising their teenage daughters, the ambitious couple tended to their lovely home and garden in north Boulder and purchased a property in Red Feather Lakes, Colorado, where they began building their dream home on the weekends. Of course, much of their time was spent in Belize during winter.
After the couple fully retired in the mid-90s, they split their time summering at their mountain home and wintering in Belize, often driving a van, and later a small RV, from Colorado to Belize, taking several weeks to enjoy the journey and camp at favorite beaches in the Yucatan Peninsula of Mexico. They made lifelong friends in the community at their island and mountain homes and enjoyed socializing with neighbors and lending a helping hand when needed.
When Ron passed away in 2007, Yvonne spent even more time living on Ambergris Caye, sharing a home with her daughter Tamara and son-in-law. She actively volunteered at the Dr. Otto Rodriguez San Pedro Polyclinic II for the first several years. She also loved helping her daughter Tamara deliver The San Pedro Sun newspaper weekly, traveling through town on sandy streets in a golf cart. Friday night BINGO at the San Pedro Lions Club and occasionally volunteering at their fundraising events and eye screening program also kept her busy. More than anything, her passion was tending to her beautiful tropical garden, exploring the island on a golf cart while birding, visiting with her longtime friends, and traveling the mainland of Belize extensively with Tamara while she was on writing assignments for My Beautiful Belize. Yvonne was warmly received everywhere they went, and many fell in love with her sparkling blue eyes, kindness, and vibrant zeal for life.
Her summer months in Red Feather Lakes kept her busy with countless home improvement projects and hours of gardening. She loved a good Bronco's football game, reading historical novels, and feeding the birds while watching the deer, moose, and even bears that visited her property. During the last few years, when her health declined, daughter Taiña enjoyed spending the summer months with her. At the pandemic's peak (summer and fall of 2020), Taiña extended her stay for six months, keeping Yvonne in the safety of the mountains. They spent quality time on the cabin deck and in the memorial garden dedicated to her late husband, taking in the mountain views, playing with Taiña's three dogs, and forging lifelong memories.
In the fall, Yvonne would stay a couple of months in Laramie, Wyoming, with her youngest daughter Tara and grandson Trey. She relished the warmth of the family sunroom and its thriving plants, was amused watching the chickens in the yard, and cuddled Angel, the golden retriever. When the snow began to fly, it was time to return to Belize! Although her memory was failing, her love for life, good-natured spirit, and enthusiasm for adventure never did. She was determined to return to Belize and enjoyed her last visit to the island from January through May 2022. She then went to her mountain home with Taiña until mid-August, and the family then moved her to Laramie, where she was under the loving care of her daughters and grandson, Trey.
Yvonne, affectionally known as Nana, passed away in Laramie on January 6, 2023, with family at her bedside. She is preceded in death by her husband, Ronald James Temsik, parents Mary Martha (Spang) Emmonds and William Emmonds, sister Patricia (Emmonds) Helm, and brother William "Bill" Emmonds. She is survived by daughters Tamara (Temsik) Sniffin, Taiña Temsik, Tara Temsik, son-in-law Ronald Sniffin, grandsons Coleton (Temsik) Vitt, Jeremiah Sniffin, Trey Temsik, extended family and Belizean god-daughter Daniella Medrano.
A June 2023 memorial service will be at her home in Red Feather Lakes. Memorial gifts may be made to the Alzheimer's Association, the World Wildlife Federation, or the Audubon Society.