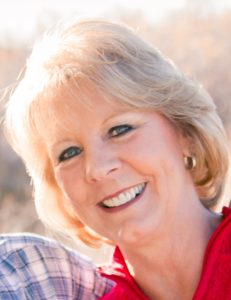 Debra "Debi" Lynn O'Donnell (Bird), 64, died peacefully in her sleep on September 9th, 2019 at Ivinson Memorial Hospital in Laramie, Wyoming after a five month battle with cancer.  In her final days, she was surrounded by her loving husband, Greg, of 45 years, her son and daughter, father, sister, members of her extended family and her dearest friends.
Born March 17th, 1955 in Laramie, Wyoming to Don and Dorothy Bird, Debi was the older of two girls.  Growing up, she and her family enjoyed traveling cross country to watch the University of Wyoming Cowboy Basketball team, taking trips in the camper and singing next to the campfire as a family.  Through high school, Debi enjoyed participating in music classes, had a love for ballet and held a job at Gibson's Discount Center.  During her senior year, in 1973, she met the love of her life, Greg and together they were able to graduate and receive their diplomas. After high school, Debi pursued a degree in music from the University of Wyoming on a vocal scholarship.  After six months of college, Debi and Greg decided to tie the knot in a church ceremony on August 18th, 1974.  Following the wedding, Debi decided to take an alternate path, away from the college environment to work for United Building Centers.  She worked hard, but knew how to play and trips to the lake with friends during the weekends were a must.   In July of 1977, Debi gave birth to their first son, Chad.  In October of 1979, Debi joined Beta Sigma Phi and was an active member for over 23 years, holding various offices.
In 1980, Debi began working alongside her mother to learn the processes behind managing the financial books for Bird Enterprises while Greg operated O'Donnell Trucking and Excavating.   In 1984, Debi and Greg took ownership of the family owned businesses and together established, Bird O'Donnell Construction.  While Greg took care of managing the labor, Debi maintained the books meticulously and diligently.   She loved "working in the office" and found satisfaction in making sure the financials were organized and timely.  40 years in business together and 46 years in love.
1981 marked the beginning of a 39 year old tradition of taking "girls' trips" with her closest girlfriends.  For Debi, her girlfriends, also known as "the posse" was her extended family.
In April of 1984, Debi gave birth to their daughter Cassidy.  As her children grew, Debi made them a priority and dedicated her time to attending band concerts and volleyball games.  Debi was the same with her grandchildren, making it a point to attend their school plays, sporting events and concerts.  When her grandson was diagnosed with cancer at the age of five, she never hesitated to drop everything so that she could lend a hand.  She was always there.
Later on in their marriage, Debi and Greg continued to enjoy traveling; taking motorcycle trips together and "geriatric" motorcycle trips in their Miata. Annual trips with the camper to Arizona and South Dakota with their friends were something they really looked forward to.  However, staying in their camper at Woodslanding on the weekends during the warmer months was their kind of "heaven."
Debi left our lives feeling the love that she gave to everyone throughout her lifetime.  Her ability to love unconditionally will truly be missed.
Debi is preceded in death by her mother, Dorothy Lee Bird, who passed in November.
Debi is survived by her husband, Greg of Laramie; two children, Chad O'Donnell (Sarah O'Donnell) of Cheyenne and Cassidy Biggs (Mitchell Biggs) of Laramie; four grandchildren, Ben, Toby, Austin and Liam; her father, Don Bird of Laramie; her sister, Donna Crandall (Gary Crandall) of Laramie; her nephew, Shon Crandall (Carter Crandall) of Spokane, Washington; two nieces, Jennifer Bird Crandall (Nathan Hamilton) of Westminster, Colorado and Megan Crandall of Troy, Alabama.
Private memorial services will be held at the home of Debi and Greg and in Woodslanding where Debi shared many treasured moments and "shopnics" with her family and friends.
In Lieu of flowers, donations may be sent to Jason's Friends Foundation in Casper, Wyoming for their support of families in Wyoming caring for a child with cancer. Condolences may be sent to P.O. Box 1692, Laramie, Wyoming 82073.