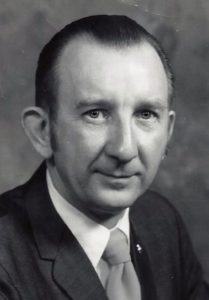 Daniel S. Travsky, 92, of Laramie, died Saturday, December 30, 2017 at Laramie Care Center. He was born December 3, 1925 in Youngstown, Ohio to Paul J. and Mary (Pavlik) Travsky.
He grew up in Youngstown and graduated from Chaney High School. After graduating he enlisted in the United States Airforce in August of 1943 and served until August 1968, retiring as a Chief Warrant Officer.  His service included duty in Okinawa (WWII), Korea, Germany, Panama, and Canada.  He moved to Laramie in 1968 and attended the University of Wyoming graduating in 1973 with a degree in Business Administration.  He then worked for the University in the Property office retiring after 10 ½ years.  He married Bonnie Black of Casper in 1946, together they had two sons.  She preceded him in death in 1969.
Daniel then married Thyra Smith on May 18, 1973 in Cheyenne, Wyoming.
Daniel enjoyed collecting various items. He was a member of many organizations including the Moose Lodge #390, where he served two terms as Govenor, the VFW Post #2221, where he served as Quartermaster for a few years. And the American Legion Post #14. He was also a member of the Trinity Lutheran Church.
He is preceded in death by his parents; his wife; and his brother, Paul.
Daniel is survived by his son, Richard Travsky and his wife, Amber of Laramie; and his brother, Albert and his wife Mary Travsky.
Funeral services will be held at 1:00 p.m. Friday, January 5, 2018 at Montgomery-Stryker Funeral Home with the Reverend Nathan Keith. Burial will follow at Greenhill Cemetery with Military Rites by the United States Airforce and the Laramie Veterans Honor Guard.