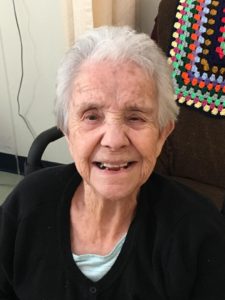 Heaven gained another angel on Saturday, July 7, 2018.  Our loving Mom, Damas Montez, 87, of Laramie, passed away at Hospice of Laramie surrounded by her family.
She was born February 27, 1931 in Marfa, Texas to Thomas and Isadora (Hernandez) Laugheed. Damas left her family home at the age of 16 to go to work in the fields in Wheatland, Wyoming with her brother and sister-in-law, skipping the rows where they saw snakes!
She married Francis Montez on June 18, 1948 in Wheatland and together they had nine children.
Family was the most important priority to Damas, playing both roles as mother and father while her husband worked on the road for Union Pacific Railroad. Damas loved to travel, visiting her family in Texas and California. She taught her children her recipes for tortillas, beans, and rice to carry on the tradition of her cooking. She would not only cook for her family, she would also cook for the homeless and have Francis deliver the food, while her home was always open to all.  Damas's faith was also important to her praying the rosary every day, she was a member of the Lady of Guadalupe Group and St. Laurence O'Toole Catholic Church.
Damas worked as a housekeeper for Tri Delta at the University of Wyoming for many years.
She is preceded in death by her husband, Francis Montez, parents, brother, John, baby sister Isadora and sister, Luciana.
She is survived by her children, Frank (Deborah), Richard (Debbie), Leonard, Patricia (Deb), Isadora (Sheila), Steven, Rosemary (Donna), Lorenzo, and James (Kimberly); 20 grandchildren; 24 great-grandchildren; sister-in-laws, Mary Laugheed and Helen Montez; sisters, Helen and Rose and many nieces and nephews.
Visitation will be held from 2:00-4:00 p.m. Thursday, July 12, 2018 at Montgomery-Stryker Funeral Home.
Rosary and Vigil service will be held at 5:30 p.m. Thursday, July 12, 2018 at St. Laurence O'Toole Catholic Church.
Funeral Liturgy will be held at 11:00 a.m. Friday, July 13, 2018 at St. Laurence O'Toole Catholic Church with the Reverend Fr. Dave Erickson, celebrant.
Memorial contributions may be made to Hospice of Laramie, 1754 Centennial Drive, Laramie, WY 82070 to go towards the finishing of their Sanctuary at the Hospice House.