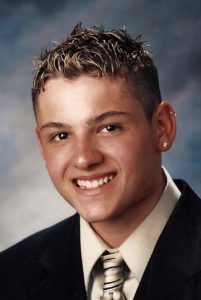 Craig Louis Cook, born June 30, 1985 in Laramie Wyoming, passed away October 12, 2018 in Gilbert, Arizona.
In 2003 Craig graduated Hamilton High School in Chandler, Arizona.  Following High School Craig attended a university in Arizona.  At the age of 19 Craig enrolled in an apprenticeship program as a plumber.  The construction industry allowed Craig the opportunity to travel to Colorado.  While working on a project at the Swedish Medical Center Craig met a nurse by the name of Kendra.  It was with Kendra that Craig would achieve what he always referred to as his "most proud accomplishment"  The birth of his "Angel" Bailey Leigh Cook.
Craig enjoyed spending his time hunting & shooting guns with his father.  Playing golf with his big brother & watching movies with his sisters.  Along with Craig's love & passion for music his favorite past time was BBQ's with his buddies & Family Cookouts.
He is preceded in death by his stepfather, Jeff Pike and his grandfather, Louis Padilla.
Craig is survived by his daughter Bailey Leigh Cook; siblings Anita Jo Lynn Hollingsworth, Brandi Leigh Pfeifer, Gary Lee Cook Jr.; father, Gary Lee Cook, mother, Florence Pike, grand parents Gordon and Marcella Cook & Josephine Padilla; along with many Aunts, Uncles, Cousins, Nephews, Nieces & friends.
Visitation will be held 6:00-8:00 p.m. Thursday, October 18, 2018 at Montgomery-Stryker Funeral Home.
Rosary service will be held at 10:00 a.m. Friday, October 19, 2018 at St. Laurence O'Toole Catholic Church
Funeral Liturgy will follow the rosary service at 10:30 a.m. Friday October 19th 2018 at St Laurence O'Toole Catholic Church with the Reverend Fr. Dave Erickson, celebrant. Burial will follow at Green Hill Cemetery.
Memorial contributions may be made to the Craig Louis Cook Memorial Fund for his daughter, Bailey Leigh Cook c/o Wells Fargo Bank 2127 Grand Ave, Laramie, WY 82070