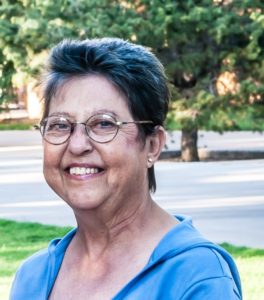 Cindy Yeoman, 67, died peacefully at Ivinson Memorial Hospital on Tuesday, Sept. 26, 2017. She was born April 18, 1950 to H.W. and Hildie Manning in Laramie where she lived her entire life. She attended school in Laramie and graduated from Laramie High School in 1968. She was the youngest of three children.
She married her high school sweetheart Steve Yeoman and they were married for 46 years. They had two children. She was a dedicated wife, mother and grandmother. She dearly loved her children and grandchildren and doted over them. She was a homemaker most of her married life. She loved to sew and was an accomplished quilter. She was also a superb cook.
She was preceded in death by her parents and sister. She is survived by her husband Steve, son Jason, grandsons Kobi and Jaysen of Laramie and son Kevin (Ashtin) of Tacoma, Wa.
In lieu of flowers please make a donation to the American Diabetes Association.
Cremation has taken place. A memorial service will be held at Montgomery-Stryker Funeral Home Oct. 5, 2017 at 1:00 p.m. with Reverend Rhett Ivey.