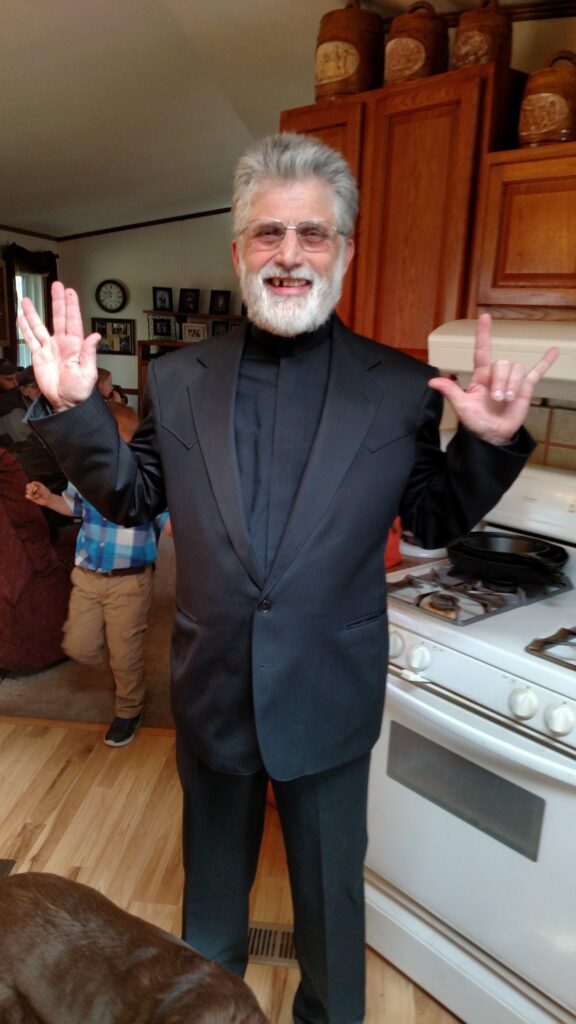 On Wednesday, January 25, 2023 Jesus took Chuck by the hand to lead him home to the heavens above.
Charles A. Bauer Jr was born to Charles and Shirley Bauer on March 5, 1956 in Denver, Colorado. The eldest of five siblings, Chuck moved around a lot in his youth, mostly in the Denver area. After spending some time in Rhode Island, he made his way back west and eventually settled into country living in Laramie, Wyoming.
Educated in the School of Hard Knocks, whose colors were black and blue, Chuck became an elevator mechanic and served in this role for over 40 years. He married Angie in 2013 and they would have celebrated 10 years of wedded bliss on September 14th of this year.
Chuck was known by all for his booming laugh, which lit up every room he entered. Music lived deep in his soul, and he enjoyed any and all kinds. He relished playing his guitar- whether at home alone or in a band, rock music or worship-he just wanted to play. It didn't matter if he had an audience or not- he played with abandon, even breaking a string on occasion. He enjoyed hiking, camping and fishing, though the camaraderie of whomever he was fishing with was more important to him than what bit the line.
As an elder of First Christian Church in Laramie, Chuck had the joy of preaching on occasion and guiding people in considering God's Word. He did not, however, limit his interaction with people to church; rather, if you made eye contact, you were sure to become Chuck's friend.
At home Chuck had the best companion in their dog Callie, who liked to ride around with him in the old truck with his special "truck hat." Cisco the cat enjoyed draping himself around Chuck's shoulders and head-butting him for attention. Riding motorcycles brought Chuck many adventures over the years, and was his favorite way to enjoy travel and discovering new places.
Chuck had a passion for connecting and ministering with guys in jail, with addiction, and just down on their luck. He was very patient when someone didn't share his beliefs, recognizing the need to meet people right where they are. He had a beautiful way of being able to discern what people needed and how to reach them.
The grandkids were a source of delight to Chuck. He got really good at playdough animals over time. He enjoyed camping with them and taking them out on the kayaks. He felt so much joy when he could spend time with his boys and the grandkids. Whether it be motorcycle riding or camping, he simply enjoyed being with his family.
Chuck persevered through the long journey of cancer before going home to be with Jesus. He is survived by his wife Angie Bauer, two wonderful sons and five beautiful grandchildren, whom he loved dearly, as well as a loving brother and sister.
Memorial service will be at 2:00 p.m. Saturday, February 4, 2023 at First Christian Church in Laramie, officiated by Pastor Mike Berry. Reception to follow. In lieu of flowers, memorial donations may be made in Chuck's name to Hospice of Laramie, 1754 Centennial Dr. Laramie, WY 82070.