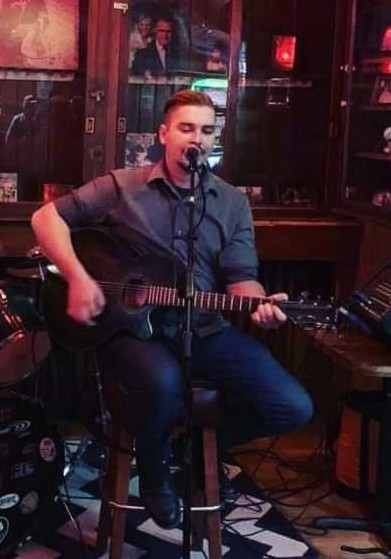 As the Sunsets fall into the sky
and you enter the Shamans Realm.
Just know you've reached infinity.
You'll never leave our hearts,
or minds and you'll be cruising the cosmos forever on…
The energy we posses is not of this world
We've always been a family connected in spirits
And as the drums beat slowly ever changing
The lives around us
We will always be able to think of you the same
-Bill Elliott
Christopher Michael Elliott, 32, passed away suddenly at his home December 4, 2021. He was born in Lander, Wyoming on August 23, 1989, to Ben Arthur and Elaine Marie Elliott. In 2009 he graduated from Rocky Mountain High School. His family resided in many places including Jasper, Alabama, Fort Collins, Colorado and Cheyenne, Wyoming; but Laramie was home.
Wherever he found himself, Chris never met a stranger. He had a desire to help others and hear their stories. He cherished being out in nature and caring for animals big and small. When not in the mountains he'd be cruising around on his Harley or skateboarding with friends. Chris' greatest passions were creating and performing music with his older brother Bill, playing in the river with his sister Aileen and nephew Evan, and dancing with his mother. Nothing was more important to Christopher than his family, including his newest nephew William and uncle, Vernon Hewitt.
Throughout his life, Chris worked as a forklift driver and bartender. While in Jasper, he was captain of the Jr. ROTC. In Fort Collins he was part of the Rocky Mountain High Bel Canto Choir. Later, he was a member of the Laramie Fraternal Order of Eagles #3493.
He will be deeply missed by his numerous friends and surviving family; mother, Elaine, older brother Bill Elliott, older sister Aileen Elliott and nephews Evan and William Elliott; half brother, Trey Elliott; grandmother, Edith Johnson; and his uncle, Vernon Hewitt.
He is preceded in death by his father, Ben Arthur Elliott Jr.; his grandparents, Ben A. Elliott Sr and Flora Elliott and William Hewitt; his aunts, Molly Wilson and Judy Gradick.
Memorial service will be 2:00 p.m. Tuesday, December 21, 2021, at Montgomery-Stryker Funeral Home.