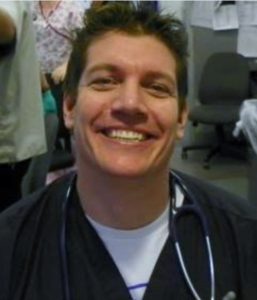 Christopher Michael De Young passed away on September 21, 2016. He was born in Duarte, California on August 27, 1973 to Michael and Barbara (Maxwell) De Young. Chris and his three brothers, Jonathan, Benjamin, and Matthew moved with their parents to Pocatello, Idaho in 1976 where he attended schools and was an active member of the Pocatello/Blackfoot swim club throughout childhood, including at Pocatello High School. Driven and hard-working, even as a young adult, Chris set a personal goal to swim at the university level and moved to Hyrum, Utah to train under Coach Toby at Mountain Crest High School his senior year. Christopher was recruited to swim for the University of Wyoming on scholarship and, as an all-around swimmer specializing in freestyle, was a four-year letter winner. With some lingering credit requirements needed to finish his undergraduate degree, Chris had to find a way to pay tuition for an additional year of coursework; he surprised everyone by landing another athletic scholarship through the UW Spirit Program Coed Team and helped lead the crowds at War Memorial in cheering on the Cowboys for a year!
He met his future wife, Janine Jordan, at UW and, after a few years of friendship, his humble, beguiling charm, ceaseless smile, and deep love of life convinced her to go on a first date of skiing in the Snowy Range. They were married the afternoon of October 30, 1999 and, later that evening, attended the Saturday night Halloween costume party at the Buckhorn in downtown Laramie dressed as bride and groom to many cheers and toasts. Chris became a father with the birth of his daughter, Jordan De Young, in 2000 and two years later a son, Maxwell De Young.
The absolute, single greatest joy of Christopher's life was his children. He was a full hands-on daddy, standing alongside Jordan and Max every day teaching, comforting, encouraging, and guiding. He was unremittingly proud of the young adults they had grown to be. Chris and his wife talked often about how proud they were of their kids' dedication in working to accomplish their goals, from learning to walk as toddlers to school work or sports, and Janine would tell him "they just take after their father." Chris never gave only a part of himself or made half an effort, he gave his all to everything he did and to everyone around him. His children lovingly teased him about being a "nerd" when he played his vintage 1977 Star Wars board game with them or, when his daughter recently joined a gaming group, ceremoniously gifted her the D&D dice set from his own high school days.
Chris loved his family, friends, and coworkers very much and wanted nothing more than to be of service, to help where he could, and to celebrate each day in fellowship with others. His calling became his profession as he chose to be a registered nurse, specializing in critical and emergency room care for twelve years at Ivinson Memorial Hospital and Poudre Valley Hospital in Fort Collins. In 2011, he graduated with honors from the University of Wyoming with a MA in Nursing, Family Nurse Practitioner. Chris talked often about his professional family including all of Laramie's first responders, hospital staff, and his medical colleagues throughout Southeast  Wyoming and Northern Colorado.
He devoted endless hours to the Laramie Swim Club volunteering as Meet Director, serving on the Board of Directors and helping out any way he could. Chris may be the only middle-aged parent-volunteer in the history of the Swim Club or Laramie High School Plainsmen/Lady Plainsmen Swimming daring enough to don a suit in the presence of teenagers, jump in the pool, and practice right alongside the kids – sometimes even beating them! He loved drag racing, fishing and camping, reading science fiction fantasy novels, working on classic cars, swimming and water polo, shooting, gaming, and would try anything more than once.
Christopher was preceded in death by his father, Michael De Young of Pocatello, Idaho and a niece.
He is survived by his wife, Janine Jordan, and two children, Jordan and Maxwell De Young of Laramie; his mother and step-father Barbara and Dennis Bergendorf of Frankfort, Indiana; his brothers Jonathan, Benjamin, and Matthew De Young of Pocatello Idaho; step-siblings Dennis Bergendorf II and Christine Paulsen of Pocatello, Idaho; and twenty-five nieces and nephews.
The family has established the Chris De Young Memorial Scholarship Fund, for the benefit of the Laramie Swim Club. The scholarship fund will help ensure every child may learn to swim and has the opportunity to develop self-motivation, individual pride, and sportsmanship within the swimming community. In lieu of flowers, donations to the Chris De Young Memorial Scholarship Fund may be made to UniWyo Federal Credit Union, 1610 E. Reynolds Street, Laramie, WY 82072. Beginning September 27th, an on-line donation option will be available on the UniWyo website at www.uniwyo.com.
A celebration of Life will be held at 3:00 p.m. Wednesday, September 28th at the Gryphon Theatre, 710 E. Garfield, with the Reverend Rhett Ivey, officiating. Everyone is invited to a reception following the services at the Train Depot.