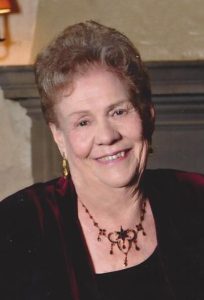 Charlotte Pulscher Laycock, 84, of Laramie, died Thursday, December 28, 2017 at Ivinson Memorial Hospital.
Born January 2, 1933 at her Grandmother (LaPash) home on the south ninth in Laramie WY.  She grew-up on the Pulsher Ranch located on South Lodge Pole Creek east of Laramie with her parents, Mathew and Jesse, sisters, Luetta and Sandy and brother Mathew. Once she reached school age the family sold the Ranch and moved to Fort Collins Colorado. Charlotte graduated from Fort Collins High School in 1951.
She attended Mesa Junior College and University of Wyoming and received her AA Teaching Degree.  While attending University of Wyoming she met Bill Laycock at a Square Dance.  Bill was leaving for Korea in a few weeks, but they were engaged within 6 months while he was away. They were married on June 19, 1955 in the Laramie Presbyterian Church shortly after his release from the Army.  During their marriage they lived in New Jersey, Idaho, Utah, New Zealand, Colorado and retired back in Laramie Wyoming. Wyoming was always her home.
She served as PTA President, Secretary of Colorado High School Rodeo and Lady Elks President and belonged to several clubs over the years.
She taught 1st and 2nd grade elementary school until Charlotte and Bill had their own children, Cody and Donice, where she became a stay at home Mother.  Babies and little children were always her passion.  Her other passion was rodeo in which she attended the National Finals Rodeo with Bill for over 30 years and countless Little Britches, High School and College rodeo's. She also liked to hunt, fish, dance, music, entertaining, flowers, cooking and travel.  Charlotte traveled with Bill to far away places like Kenya, Switzerland, Ireland, England, France,  Nova Scotia, Australia and the South Pole.
She is survived by Bill (Husband), Cody (Son) & Rhetta (Fiance), Bill and Shane (Grandson's), Donice (Daughter) & Tim (Husband). She is also survived by her sisters, Luetta VerStraten and Sandra Lund.
Funeral services will be held at 2:00 p.m. Thursday, January 4, 2018 at Montgomery-Stryker Funeral Home. Private family burial will be at Greenhill Cemetery.
Charlotte loved flowers from Killian Florist, but for those that prefer donations please send memorial contributions to the Cathedral Home for Children, 4989 N 3rd St.,Laramie Wyoming 82072 (800-676-1909).