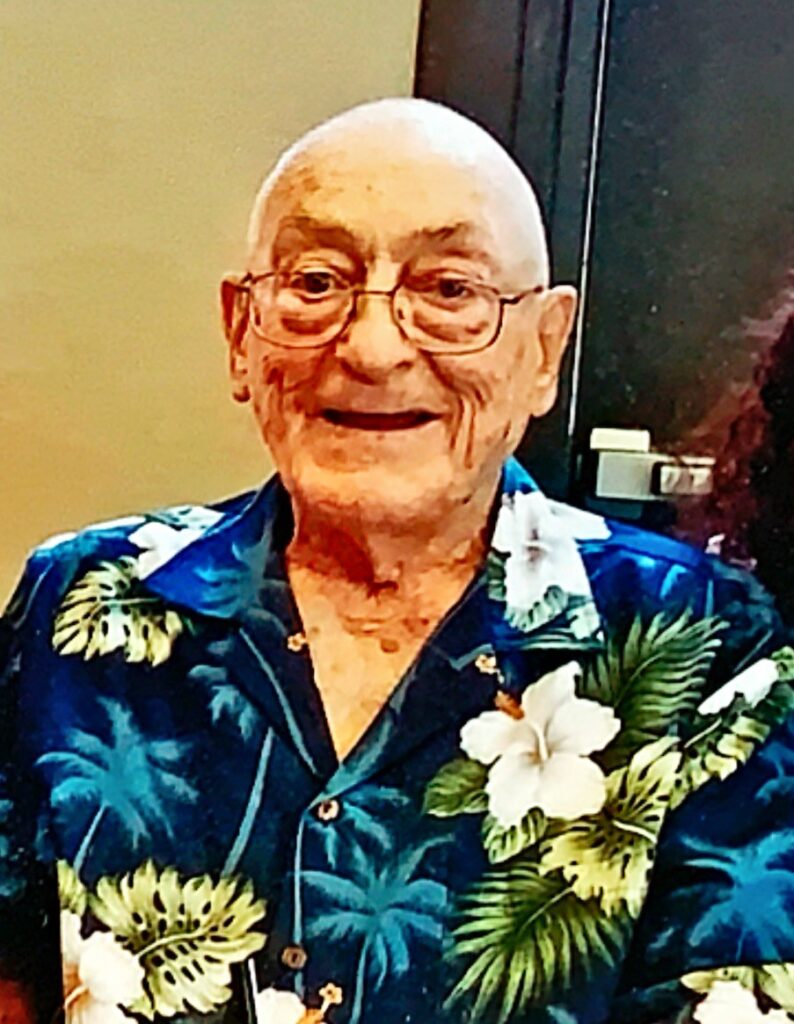 Charles Ross Bixler, 93, of Laramie, died Tuesday, December 14, 2021 at his home surrounded by his family.
Charles was born on October 7, 1928 in Parco (now Sinclair) WY.  His parents, Charles Edward & Pearl Dee (Bowers) Bixler welcomed him to their family of one brother Elvin Dee and sister, Betty Ellen Merrill (another sister, Violet Zoe had died in infancy).  After losing his father when he was two, his mother remarried to Harley Roy Moore.  The Bixler children were devastated when they lost their mother soon after.  Harley remarried (Opal) Inez Tipton and the family was soon joined by another brother, William Arthur "Bill" Moore.  They grew up on the Quaking Aspen Ranch outside of Encampment/Riverside WY.  
Charles was very punctual and studied hard, there was no school bus system, and his parents worked the ranch; the siblings road horses to school, attending the one room schoolhouse on Bear Creek. He won several essay contests and was active in the local association of the FFA, Loch Leven Chapter. He graduated in 1946; attending numerous Proms including the one for the Junior Class of 1947 (escorting Ema, of course). Charles worked there in Encampment.
Charles and Ema Laura (Wolfard) were married at the Presbyterian Church in Encampment WY on September 9, 1951. They moved to Saratoga where they had two daughters, Mabel Laurinda and Ema Charlee (EC); soon they embarked to Denver CO.
In the early 1960's, Charles worked as a maitre d 'at The Park Lane Hotel Rooftop restaurant (Top of the Park). His girls (Mabel & Ema Charlee) remember getting to go see him at work and being allowed to have a Shirley Temple. The apartment the Bixlers' lived in during that brief period in Denver had a Concord grape arbor. Such yummy grapes (per EC).
Charles decided to seek work at the University of WY as the Lead Computer Operator. The whole basement of Main Hall was the computer center – no really, the computer was that large! As Technology progressed, they moved the computer center down in the basement of one of the Science buildings. They moved into a square house on the corner of 7th and Lewis St (considered then a "crackerbox" house) with a small yard, garden, and within walking distance of the campus/work. The Bixlers had another daughter, MariAn. Charles continued working with computers as they got smaller and smaller. He enjoyed many activities within the United Presbyterian Church: Sunday School teacher, Bible Study Facilitator, College Student hosts, and other hobbies included hiking, bowling, but most of all reading.
Charles retired from the University after 30 years of service. By that time the Computer center was in the Old Ivinson Hospital building with Campus Police and other departments. His health continued to wreck havoc with him between his shoulders/rotator cuffs, his knees, and back and his eyesight. Thank God for technology and books on tapes (lol) no, CDs.
With both his and Ema Laura's health declining, his oldest daughter, Mabel, retired (again) from Civil Service and came to live in Laramie with them. Having Mabel and his middle daughter EC (and her boys) was a true Godsend.
Charles lost Ema Laura earlier in the year, and he tried to continue to be active, but more and more his knees/legs gave out. Charles was able to enjoy Thanksgiving with his youngest daughter MariAn and her husband Bob in Cheyenne.
Charles loved being surrounded by family and friends. He was quiet, sweet, and very loving; his steadfast faith in the Lord was experienced by many who just knew him.
Charles joined many loved ones that we have lost – until we meet again in Heaven:
Rest in Peace Father, Grandpapa, Brother, Uncle, and Friend. Dance like no one is watching!
Per Charles' request, no services will be scheduled. In lieu of flowers and cards, please consider making a memorial donation in Charles' name to a charity of your choice.  If you are ever in Encampment, please stop by the Cemetery and sit on the rock under the tree where a memorial plaque is placed.