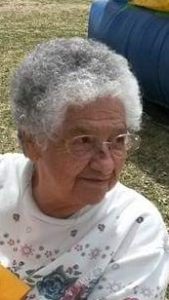 Casandra Romero, 87, of Laramie, died on Monday, March 25, 2019 at Hospice of Laramie. She was born June 23, 1931 in Rawlins, WY to Enrique and Quiteria (Bustos) Lucero.
She married Thomas Romero on January 22, 1949 in Rawlins.
She is preceded in death by her husband, Thomas and her son, Tommy Romero.
Casandra is survived by her sister, Flora Matthews of Los Angeles, CA; her children, Elena Romero, Patricia Romero both of Laramie, Lorene Emerson (Chuck) of Woodbridge, VA, Chris Worster (Greg) of North Las Vegas, NV, and Michael Romero (Dorothy) of Brighton, CO; 7 grandchildren; 18 great grandchildren; and 7 great-great grandchildren; and numerous nieces and nephews.
Vigil and Rosary service will be held at 6:30 p.m. Friday, March 29, 2019 at Montgomery-Stryker Funeral Home, visitation starting at 5 p.m.
Funeral Liturgy will be at 10:00 a.m. Saturday, March 30th at St. Laurence O'Toole Catholic Church with the Reverend Fr. Dave Erickson, celebrant. Burial will follow at Greenhill Cemetery.
Memorial donations may be made to St. Laurence O'Toole Catholic Church and to Hospice of Laramie.