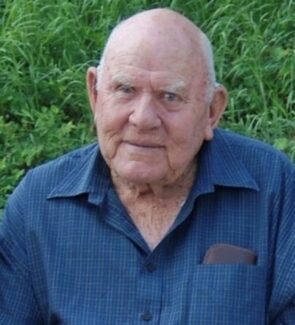 Bruce Armstrong Watt, last surviving child of Upton area pioneers Eugene and Elizabeth Watt, passed away peacefully on April 12th in Laramie, Wyoming while in the care of Hospice of Laramie. Bruce was born at the family ranch on Buffalo Creek on July 17th, 1925, the seventh of nine children. Over his next 96 years, as a member of the "greatest generation", he grew up during the depression years, served in World War II, and survived COVID-19. After graduating several months early from Upton High School in 1943, Bruce enlisted in the Navy where he served in the South Pacific while assigned to an island-based unit servicing and arming naval aircraft. While waiting to be released from duty in Seattle, Washington, Bruce pursued one of his many passions by obtaining his pilot's license and continued to fly a Piper Cub for years from the Upton Airport. He was honorably discharged in 1945 and returned to the Upton area where he married Norma June Croxton on June 25, 1950.
Like many veterans at the time, he made the decision to pursue a college degree and graduated from Montana State, followed by graduate studies at the University of Texas. He was an associate professor of science education at Peabody College in Nashville, Tennessee, and also at Fort Lewis College in Durango, Colorado. Science, especially biology and astronomy were his intellectual passions, but he always had a love of working with his hands in his wood shop and building houses. While a college student in Montana, Bruce and his brother Earl were able to finance their education while building homes in the Belgrade, Montana area. Eventually, his building passion led Bruce to leave the academic world and return to the Upton area and operate his own construction business. He will always be remembered for his curiosity and passion for learning, whether it was teaching in a classroom, building kites for grandkids or viewing the stars with them on his telescope.
       Bruce was preceded in death by his wife, Norma June and son, Gene.  He is survived by his daughter Susan Brewer, and sons, Vance, Mark, Bruce, Brian, fifteen grandchildren, seventeen great-grandchildren and one great-great-grandchild. 
Private graveside services for family members will be on Saturday, April 23, 12:30 pm at Upton Greenwood Cemetery followed by a 1pm community reception and lunch to celebrate Bruce's life at the Upton Community Center. In lieu of flowers, the family requests donations to Hospice of Laramie, 1754 Centennial Drive, Laramie, WY 82072 or at HospiceofLaramie.org.
The family would like to extend their gratitude to Ivinson Memorial Hospital, Ivinson Medical Group, and Spring Wind for their years of support and comfort to him.