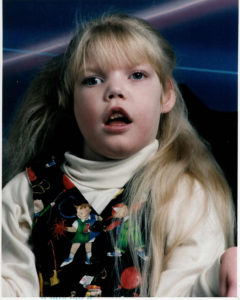 Breanna Nicole Hickman returned to the loving arms of her Heavenly Father on June 5th, 2017.  Breanna was born October 19th 1990 in Memphis TN. She moved to Laramie with her mother, Maureen Meserve in 1994.
Breanna came to this life in a body that didn't work well.  She couldn't sit up at the dinner table, share our conversations, or join us for walks.  It appeared that she was dependent on us for her daily care, but in truth, it was we who depended on her in many ways.   Breanna didn't achieve worldly accomplishments, but she brought us many gifts.  She taught us compassion and patience and real joy; when Breanna smiled it was pure.  She taught us what it meant to be long-suffering.  She showed us the true face of courage and what it means to sacrifice for others.  Breanna came to make each of us better simply because we knew her.  Those whose lives she touched are forever changed.
Breanna is survived by her mother Maureen Meserve;  her father Donald Hickman; siblings Grayson, Tristan, Jordan, Taryn, and Morgan Veniegas, and also by Naomi Kimble and Paige Bailey; grandparents Clyde and Jan Meserve; and many other loving relatives. 
A funeral service is scheduled Wednesday, 10:30 a.m. June 14, 2017 at the Church of Jesus Christ of Latter-Day Saints (3311 Hayford Street) with David Heath, conducting.