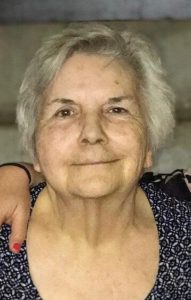 Bonnie Mae Soderberg, 72, of Laramie passed away on Monday, April 22, 2019 at her home. Bonnie was born in Laramie on January 22, 1947 to Dewey and Lila Johnson. Shortly after graduating high school she married the love of her life, Donald Soderberg. The two were married at Grace Chapel on April 23, 1966. They lived in Fox Park for a short time before moving back to their forever home in Laramie.
Bonnie was a gambling lady who loved to play slot machines, Bingo and cards. She also spent many years bowling. One of her favorite things to do however, was spending time with her family at their cabin near Woodedge.
Bonnie is preceded in death by her parents and husband.
She will be dearly missed by those surviving her, including her brother Billy Johnson of Texas; two children Erling Soderberg, and Monika and Michael Barbour; grandchildren, Taylor and Chrystol, Grady, Dillon, Sage and Kacey, and Kylie and Garrett; and great grandchildren Oliver, Odin and Cody. Bonnie is further survived by many nieces, nephews and extended family.
A funeral service will be held at Montgomery-Stryker Funeral Home on Friday, April 26th at 2:00 p.m. with visitation starting at 1:00 p.m. Reverend Rhett Ivey will be officiating. Burial will be at Greenhill Cemetery with a reception immediately following the service at the VFW. Please feel free to wear something yellow, as it was Bonnie's favorite color.
In lieu of flowers, memorials can be made in Bonnie's name to the American Heart Association or the Laramie VFW.