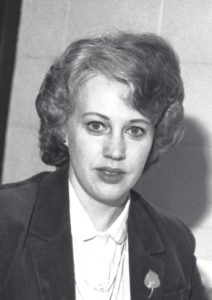 Beverly Lee Sheen passed away on April 28, 2019 at Hospice House of Laramie supported by her loving family and caring staff after a long struggle with Alzheimer's.
Bev was a lifelong resident of Laramie, but was born on Jan. 26, 1939 to Vera and William Taylor, in Denver at her grandmother's house during a visit.
She spent all her school years in Laramie, participating in Glee Club, National Thespians, Girls State alt. and homecoming Queen candidate; making many friendships that last through her life.  She enjoyed years of planning and participating in class reunions.
She began her life's work at Bank of Laramie after graduation, under the mentorship of Jack Guthrie, beginning in the mail room and working her way up to Cashier, Comptroller and Vice President before moving on to the Uniwyo Credit Union and then Plains Federal Credit Union.  Retiring in 2002 after 45 years in the Banking business.
She enjoyed being a local home town banker and helping first time local business, and old and new Laramites achieve their dreams.
During her career Bev service on many boards, often serving as treasurer for community organizations. Bev was a lifetime member of Soroptimist, Beta Sigma Phi, and Wyoming Bankers Association and was active in 4-H in many roles.
Beverly and her high school sweetheart, Claris Sheen were married in 1958.
They had two children, Lianne (Tony) Kupilik and Tim (Shawn) Sheen.
She was accomplished on the piano and organ, and they both loved music and dancing, belonging to a square-dancing club for many years. She was an avid reader and outdoors woman.  She and her husband were active members in the Back Country Horseman Club, spending many hours camping and backpacking with friends and family.  She loved to travel and saw many places far and wide, but her favorite was always her annual vacation with her grandchildren, Charlie, Kris, Shane (Kayla) Kupilik, Kyle (Sarah), and Tracy (Joni) Sheen.
Bev and Claris's happiest times were at their beloved cabin Gramm, where many happy memories were created with their dear friends and family, including her brother and sister in law Ronnie and Donna Sheen, and their nieces and nephews.
Christmas was Bev's favorite time of year, hosting many large extended family gatherings, and gave her family many lasting memories for the holiday seasons to come.
In the later years of her decline she found much joy in her great grandchildren, Arloa Kupilik, Sadie Sheen, Tucker and Maddie Sheen and had the unfailing love and support of her sister, Sandra Wagner.
A memorial service will be held at the Presbyterian Church on Saturday, May 11th at 10:00 a.m.
Memorial contributions may be made in her name to the Alzheimer's Association.
Family would like to extend their deepest appreciation to all the home health care workers, Laramie Care Center and Hospice of Laramie, during Bev's lengthy illness.