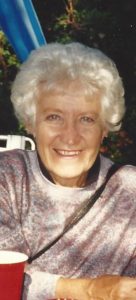 Betty L. Stratton, 91, longtime resident of Laramie, Wyoming, passed away surrounded by her six children, on June 11, 2018 at Hospice of Laramie. Funeral services will be held at Montgomery-Stryker Funeral Home on Saturday, June 16, 2018 at 10:00 a.m. Burial will follow at Greenhill Cemetery. A visitation will be held from 4:00-7:00 p.m. Friday, June 15, 2018 at Montgomery-Stryker Funeral Home.
Betty was born in Red Cloud, Nebraska.  She was happily married to Dr. Paul O. Stratton, who preceded her in death and together they shared a loving family of six children.  Betty worked as a Secretary in the Animal Science Department, U.W., President's Office, and the Western Wyoming Resource Institute.  She was involved in several civic organizations, served as a volunteer at Ivinson Memorial Hospital, the Laramie Senior Center, and was a member of the Zion Lutheran Church.  Betty dedicated her life to her family, friends, and community.
Betty is survived by Rick Hartman (Kathy), Carol Schwartz (Dan), Suzan Peterson, (Del), Debra Gaines, (Mark), Patty Bestul, (Jeff), Rod Hartman (Pam).  She was blessed with 16 grandchildren, and 27 great grandchildren, and seven great-great grandchildren.  Pallbearers will be all of Betty's Sons and Son-in-Laws.  Honorary Pallbearers will be Betty's Grandsons.
In lieu of flowers, memorials may be made to Hospice of Laramie or the Paul O. Stratton U.W. Memorial Scholarship Fund and can be sent Carol Schwartz at PO Box 1002 Laramie, WY 82073