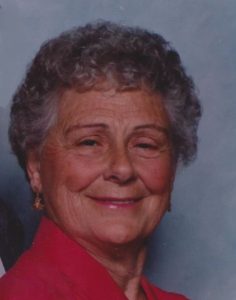 Betty Jo Epler, 92, of Laramie, died Wednesday, November 29, 2017 in Greeley, CO. She was born May 3, 1925 in Elwood, Nebraska to Ernest and Sadie (Courtright) Whitman.
The family moved to Cheyenne when Betty was two years old and attended schools there.  Betty married Norman L. Epler on August 9, 1941 in Kimball, Nebraska and lived in Cheyenne until Norm enlisted in the Navy.  She moved to California during the war and worked for a Firm bottling intravenous solutions to be used in the war effort.  In 1946 they moved back to Hillsdale then worked for various ranches from Colorado to Northern Wyoming.  They moved to Laramie in 1966 where Norm worked for the University of Wyoming Stock farm.  She worked for the University of Wyoming as a building supervisor for 18 years.  She retired in 1987.
After retiring Betty volunteered for 19 years for Ivinson Memorial Hospital admitting patients for mammograms.  Some of her pastime enjoyments were chariot racing, bead work, and many other art work crafts.  She was a member of Grace Chapel.
She is preceded in death by her husband; her parents; her sisters, Lee Capuzzo and Pat Hale; and her brother, Robert Whitman.
Betty is survived by her daughter, Fae (Keith) Hicks of Greeley, CO; her son, Kim (Diane) Epler of Laramie, WY; her four grandchildren; and her six great grandchildren; her brother, James Whitman of Oregon; and her numerous nieces and nephews.
Funeral Services will be held at 10:00 a.m. Wednesday, December 6, 2017 at Grace Chapel with Pastor Dennis Moore, officiating. Burial will follow immediately at Cheyenne Memorial Gardens in Cheyenne, WY.