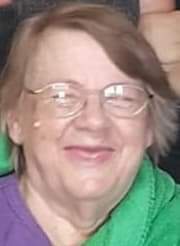 On October 14, 2022, Bette Sue Smith passed away at her home in Medicine Bow, Wyoming at the age of 73. Bette was born in Indio, California on July 30, 1949 to Anna May Carpenter and William H Ward. She married the love of her life Melvin Lee Smith, Jr. on September 15, 1973.
Bette is preceded in death by her husband, Melvin; parents, Anna and William; granddaughters, Mercedes Anastasia Smith and Julianna Rose Smith; and brother, Robert Ward.
She is survived by her daughters; Sara Kear (Terrence), Melinda Hamik (Robert), Julia Smith, and Jessica Andrews (Peter), her brothers Tim Ward (Linda) and William Ward (Joan), and sister Patricia Ward. She is also survived by numerous nieces, nephews, grandchildren and great-grandchildren.