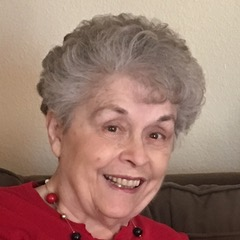 Heaven welcomed a beautiful, kind and sassy soul, on Friday, when Mrs. Bette Lunn (nee Bendell) peacefully passed away on Saturday, January 8, 2022, at the age of 85.
Bette was born to parents Alma and David Bendell on January 26,1936 in Akron, Ohio. She was the oldest of three and earned a degree in Music Education from Akron University. In 1957 she married the love of her life and her husband of 64 years, James Lunn. Lured to the Colorado mountains by a love of the outdoors, they moved to Pueblo, Colorado in 1970 to start their family.
Bette will be remembered as someone whose love for her family and friends was boundless, and for her servant's heart which touched the lives of many through her long career as a Music Educator in the Pueblo School District #60 and work at Wesley United Methodist Church and Damon Runyon Repertory Theatre. She fostered a love of music in countless young people through her inclusive and unwavering love of the performing arts. She gave her time generously and was active in the Colorado Music Education Association as President (1996-1998) and was recognized for her excellence as an educator when she was inducted into the Colorado Music Educator Hall of Fame (1999-2000). Bette loved the mountains and enjoyed traveling, camping, and hiking with her family. Bette will be remembered by anyone fortunate enough to cross paths with her for her musical gifts, generous smile and sense of humor, kindness, mentorship, and unconditional love.
Bette is survived by her husband, James Lunn, and their children Donna Solverud (Lunn) and her husband Truman, David Lunn and his wife Lori, both of who she passed her love of music to and are music educators, and her brother Don Bendell as well as sister-in-law Marti Lantz (Lunn) and her husband David and Brother-in-law Phil Lunn and his wife Ruth. She was preceded in death by her brother Bruce Bendell. She will be missed dearly by her 7 grandchildren, 3 great grandchildren as well as nieces, nephews, friends and students.
No service is planned at this time. In lieu of flowers, the family requests donations be made to the Colorado Music Educators Association, which supports music education in Colorado, which was Bette's life work. https://cmeaonline.org/donate/