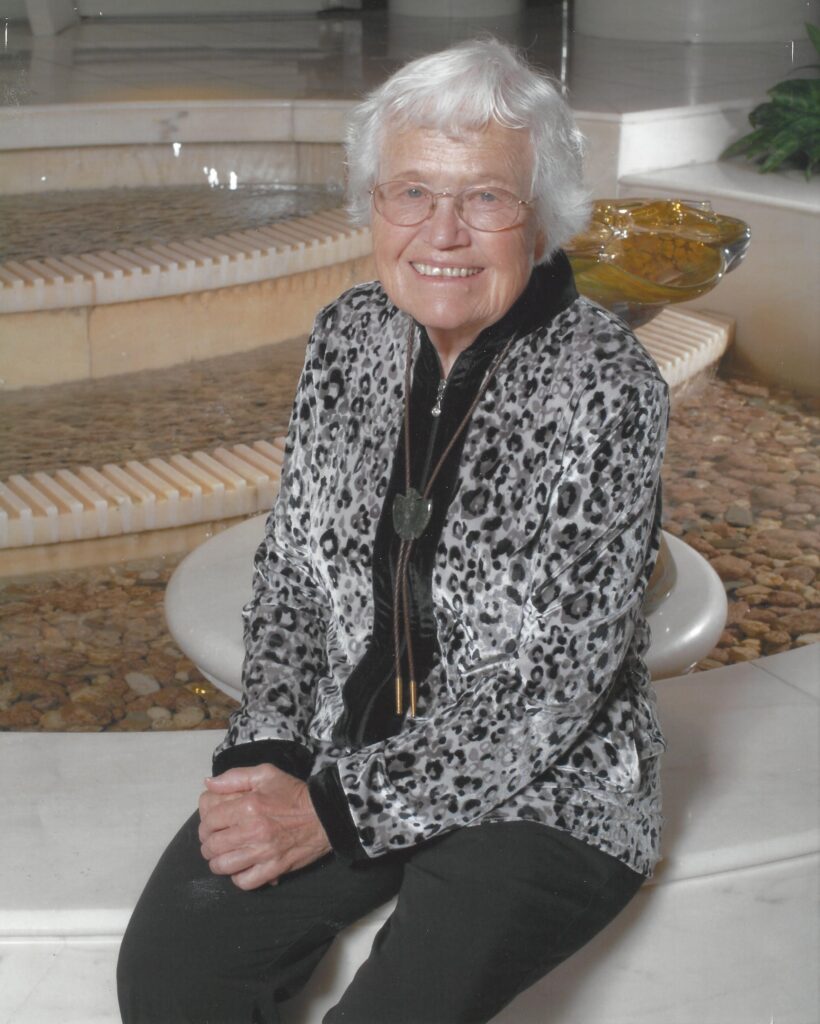 Bertha Ward, 93, a lifelong resident of Laramie, WY, passed away peacefully surrounded by her family on June 13, 2021. Bertha was born on August 31, 1927 to parents Clark and Nellie Allen. Bertha was the only girl and grew up with five brothers—Ethan, Art, Clark, Sam, and Don Allen—during the depression. Her parents were both teachers and emphasized education.
Bertha graduated from Laramie High School in 1945. Bertha and her beloved husband Frank Ward were married in December 1947. They had four children: James (Jock) in 1948, Kathy in 1949, Dawn in 1954, and Laura in 1955. The family lived in Kersey, CO for four years and then moved back to Laramie. Kathy passed away in 1954 on the same day Dawn was born. Bertha returned to school while raising her family and graduated from the University of Wyoming in 1964. Bertha started teaching 5th grade at Washington School that fall. She continued teaching 4th and 5th grade students at Washington and Slade Elementary Schools. Bertha also taught 7th through 12th grade science classes in Rock River, Wyoming for years.
Her husband Frank passed away in 1976. She never remarried but kept busy raising Morgan horses and loved to compete in driving competitions with her favorite mare Calypso Christa Lynn. Bertha enjoyed being in the Toastmasters Club, line dancing, and Red Hat Society. She taught herself to ice skate when she was young, and was an accomplished figure skater, even teaching lessons. Bertha was a 4-H leader for the Snowy Range 4-H Club for 12 years and often donated awards for 4-H and FFA events at the fair. She loved watching wrestling and continued the Sam Allen Outstanding Laramie High School Wrestler Awards which her parents had sponsored.
Bertha volunteered with numerous organizations, including the Wyoming Territorial Prison (schoolhouse maintenance, flower beds maintenance, pumpkin walk, and other events), the Cowbelles (scholarship committee and Ag Expo committees), and the West Laramie Homemakers Club (various offices). Bertha was presented the Distinguished Community Service Award for Laramie in 2011.
Bertha was a loyal fan and tried to attend every sporting event or activity or function her children, grandchildren, and great-grandchildren were participating in. Bertha was independent and drove herself to these functions until she was in her late 80s.
She was preceded in death by her husband Frank Ward, daughter Kathy Ward, and son-in-law Brent Roberts.
Bertha is survived by son Jock (Marilynn) of Buffalo, WY; daughters Dawn (Elmer) Bodin of Rock Springs, WY and Laura Roberts of Grand Junction, CO; three grandsons Toby and Cody (Kalli) Roberts and Zane Bodin; three granddaughters Joye (Terry) Allen, Jill (Eric) Borchers, and Kellie Bodin; great-grandchildren Kaitlyn Allen, Karley Borchers, Alyson Borchers, Parker Gardner, Addyson Bodin, Deklan Roberts, and McKenna Roberts.
Memorial service will be at 11:00 a.m. Thursday, June 24, 2021 at the Albany County Fairgrounds. Please wear casual attire.
Donations may be sent to the Albany County Cow Belles.