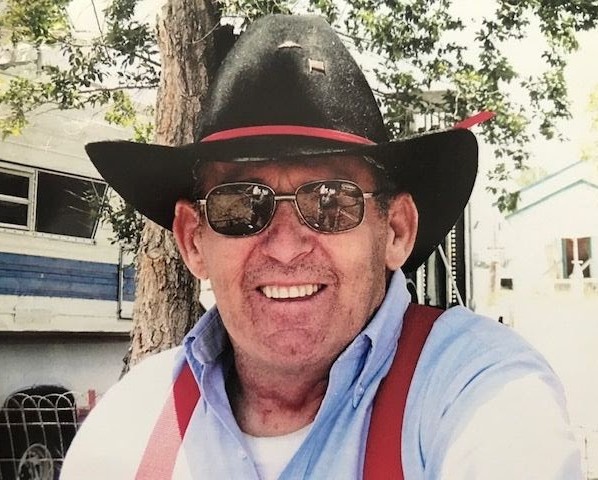 Ben was born May 5, 1943 in McMinnville, Oregon to Walter Ralph Smith and Helen Marjorie Busard (AKA-Jimi). Walter and "Jimi" were divorced in May 1945. Walter was awarded custody in the divorce, but as Walt was still in the service, Benny was raised by his grandparents, Ben and Mable (Moore) Smith at the Middle Creek Ranch, Bosler, Wyoming.
As a young boy, Ben spent time with Uncle Taylor (Curly) and Aunt Ellen (Smith) and his cousins Taylor (Toby) and Leonard Smith at an oil field camp known as Kyle, Wyoming.
Walter married Irma June May 21, 1949 and Ben was 6 years old. In 1950, Irma gave birth to Judith Ann. In 57 the family moved back to Bosler, Wy after living in Ok for many years.
Ben enlisted in the Wyoming Army National Guard for a 3-year tour, November 16, 1960 in Laramie Wyoming. Headquarters Company, 1022nd Engineer Battalion where his was a Construction machine operator. Ben was Honorably discharged from Wyoming Army Reserve National Guard (ARNG) November 15, 1963. He was then assigned to the US Army Reserve to complete the remaining obligation of 5 years.
Married Barbara Ruth Copeland on April 4, 1964. Three children were born out of this marriage: Ralph Wesley- January 1, 1965; Nikki Lou- May 17, 1966; Christopher William- August 23, 1969. Ben and Barbara divorced after about 4 ½ years. When Barbara remarried, these children were adopted by Ralph Steven Lucus and they used the Lucus name from then on.
Ralph Wesley died June 20, 2011 and his ashes are buried at Middle Creek Ranch. Ralph had 4 wives.
Bens second wife was Debra Dawn Oster. Two children were born of this marriage. Benjamin (Butch) Walter Smith III – June 21, 1970. Died January 15, 1982. Rebecca Sue – October 7, 1972
Ben and Debbie had a gas station near Hanna on Highway 30 until the interstate opened. They operated a salvage yard in Rock Springs in the late 70's. During this time they took classes to receive their pilots license and then purchased a Cessna airplane. After 5 years of marriage they divorced.
Ben then moved back to Laramie and started a new construction business and became the owner/ operator of B and S Enterprises from about 1978 to 1980 or so. During that time the company helped to build the University of Wyoming Arena Auditorium and other large buildings in Laramie.
Ben also operated an auction barn. Ben enjoyed hunting, mud racing, stock car racing, flying and participating in parades, usually on the saloon float.
In early 82, on his way home from school, Bens youngest son Butch lost his life due to unknown circumstances. After his sons death Ben did some moving around and including Idaho, Ben traveled on to California with construction work. By 87 he moved to Battle Mountain, NV where he went to work in mining. In the summer of 88 his daughter Becky moved to live with him to finish high school. During that time Ben decided to start collecting mobile homes for rentals. For a short time he owned and ran Ben Smith Garage, after finding it difficult to find good help, he closed shop and went back to work for nearby mines. Where he worked until his retirement. His retirement consisted of caring for the rental business he made, his collection of prized possessions, and many adventures.
Much of his adventures through the late 90s and 00s were with his good friend John Elder and his children Cindy, Heather, Christian, Jordan and Jamie, of whom grew up calling him grandpa Ben. These adventures included boating, fishing, hitting the hills on quads while camping and gold panning or turquoise hunting. Sometimes his adventures included traveling to the ranch in Wyoming or to Vegas to visit daughter Becky while looking for great deals on new or existing projects.
Bens health fluctuated much throughout his life, with broken bones from crashes, to negligence of proper nutrition as he loved his sugar! It was during one of these episodes around 2014 of him being on life support that his daughter Becky and granddaughter Payton moved back to Battle Mountain to help him run his rental business.
Ben enjoyed telling stories of old adventures, tinkering around with his many projects, collecting various objects and drinking milk. He was helpful to many people throughout his life and has passed on much wisdom to many others. He was known for being a jovial man always with a smile and his red suspenders. Benny was known and loved by many. He had a very adventurous life and lived it just the way he created it.
Benjamin Walter Smith II will be buried at the Middle Creek Ranch cemetery in Wyoming this July the 10. He will be laid to rest at the same time as his father Walter Ralph Smith who died earlier this year at the age of 98. Ben had just had his 78th Birthday, days before his passing.
In lieu of flowers memorial donations may be made in his name to a charity of your choice.