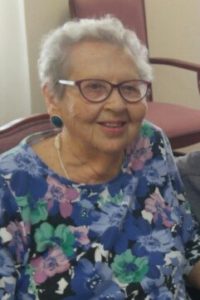 Antionette Marie "Toni" Weidel peacefully passed away on September 6, 2016, at her home in Laramie, Wyoming.  She was surrounded at her bedside by four of her six children.
Born on December 30, 1920 and raised in Altoona, PA., Toni was the oldest child of the late Augustus and Catherine Maccinile. Toni was preceded in death by husband, Daniel G. Weidel Sr.
Toni is survived by: daughters, Lynne, Susan, Nancy; sons, Dan Jr. (Susan), Jeff (D.J.), Bruce (Richard Knittle); grandchildren Catherine, Courtlin, Marlena, Andrew, Isaac; and great granddaughter Ariana. She is also survived by her brother Haley Maccinile.  Her brother Paul Maccinile preceded her in death.
Toni cherished being a mother to her six children. Her greatest gift was her unique ability to connect individually with each of her children. The long-standing family joke among her children was each one truly believed they were "Mom's favorite." But the truth is she had six favorites and she forged a unique relationship as both a mother and trusted friend with each one of them. Toni's grandchildren and great grandchild also gave her enormous joy.  She loved to play games with them and was so proud of their accomplishments.
Toni had a tremendous ability to connect with people and had a legion of friends when she departed her beloved Claymont, Delaware home of 46 years.  She relocated to Laramie, Wyoming in 2003 to be closer to family. Toni made a new circle of good friends with many of the people she encountered throughout the small college town.
Toni and Dan served as strong and compassionate role models for their children and loved ones. They were caring and trustworthy neighbors who were active in community organizations and Trinity Presbyterian Church. Toni was appointed the church's first female Deacon. She was very active in the Claymont Women's Club and participated in many community activities.  After raising her children, Toni spent 32 years in the Delaware Public School System where she was a Teacher's Aide.  She concluded her career at the elementary school that many of her children attended.
Toni was an avid reader and also had a keen interest in movies. She enjoyed cooking, baking, and decorating her home for the holidays, especially Christmas. Toni loved traveling to new places and reliving memories of her visits to the cities where her children lived.  She also traveled abroad to New Zealand, Ireland and Scandinavia.
Toni will be greatly missed by her children, grandchildren and her many friends.  Her family will hold a private service at a later date.                              Memorial donations may be sent to Hospice of Laramie at 710 Garfield, #339, Laramie, WY  82070.