September 30, 1946 – June 11, 2022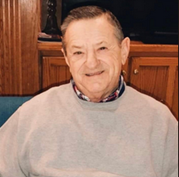 Anthony (Tony) Kruzich, 75, of Laramie, Wyoming, and formerly of Des Moines, Iowa, and Butte, Montana, passed away on Saturday, June 11, 2022, in Denver, Colorado.
Tony grew up in Butte, Montana, and graduated from Butte High School. After high school, Tony joined the Air Force and served during the Vietnam War, loading cargo planes with supplies for deployment to the ground troops in Vietnam. During his time in the Air Force, Tony married his beloved wife, Charline (Brown), who was also from Butte. Charline was the love of Tony's life, truly his best friend. They were inseparable and did everything together.
After leaving the Air Force, Tony held several different jobs but spent most of his career working for Yellow Freight Trucking, managing trucking terminals in Butte, Billings, and Las Vegas, and ultimately working his way up to Customer Service Manager at the Des Moines, Iowa Customer Service Center. Tony adored his colleagues at Yellow Freight and loved the company's golf outings, annual picnics, and happy hours.
From a young age, Tony had a deep love for the outdoors. He spent much of his younger life camping, hunting, fishing, and four-wheeling. He taught his children and grandchildren everything he knew, instilling a love of nature and the outdoors in them at an early age.
Tony suffered several health crises beginning in his early 60s, which impacted his ability to do many of the things he loved in life, but in spite of it all, his positive attitude never wavered. No matter his discomfort or pain, he always welcomed people with a big smile and a friendly conversation. He loved spending time with his family and seven grandchildren and entertained everyone with his amazing stories and hilarious jokes.
In his later years, with his mobility impacted, he loved visiting with his family and watching football, Westerns, and game shows. He loved his morning 'cup of Joe' to get ready for the day. He also loved a great meal, and a lesson we all learned from Tony is that "There's nothing better than a good meal shared with family and friends." Tony was definitely 'one of a kind' and left a lasting impression on everyone who knew him.
He is survived by his children, Robin (Mark) Willse of Des Moines, IA, and Todd (Paula) Kruzich of Laramie, WY, his seven grandchildren, Nicole Willse, Ethan Willse, Ellie Willse, Paige Kruzich, Garrett Kruzich, Ben Kruzich, and Jacob Kruzich, and his siblings, Caroline Pennington, and Vicki Hill.
He is preceded in death by his parents, Anthony and Laverne Kruzich, and his beloved wife, Charline Kruzich.