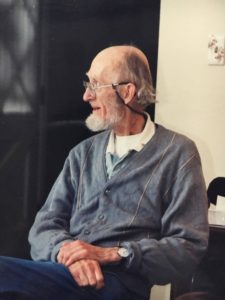 JACKSON, ANDREW HAYDEN, age 88, died on June 15 in Laramie.  Born in Chicago, IL 11/18/1930, Andy was the son of the late Otis G. Jackson, a former Dean of St. Matthew's Episcopal Cathedral, and Arline M. Jackson.  He was a graduate of Dartmouth College, but after army service and some years of seminary study and itinerant preaching, he returned to Laramie for the rest of his days; he had worked for the Cathedral until his retirement, and also became active in the Evangelical Free Church.
Predeceased by two sisters, Mary Baroody and Sally Robinson, Andy is survived by a third sister, Eleanor Clark of New York City, and by numerous beloved nieces and nephews.
For his great faith, we remember Andy in some words from a beautiful American folk hymn, "Jerusalem, My Happy Home:"
"Thy saints are crowned with glory great; they see God face to face;
They triumph still, they still rejoice in that most happy place."
A MEMORIAL SERVICE will take place in St. Matthew's Cathedral on Thursday, August 15, at 2:00 p.m., followed by burial with his parents in Greenhill Cemetery.